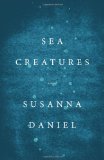 Sea Creatures
opens in 1992, with Georgia returning to her home-town of Miami with husband Graham and 3-year-old son Frankie in tow, in search of a new beginning. Things have sort of fallen apart. Graham didn't get tenure, Georgia's college-advising business has failed, and Frankie has stopped talking entirely over the past 6 months or so. It's obvious that the family has been through some sort of trauma, and is hoping to move on. They move in with Georgia's dad and step-mom temporarily while they buy a rickety houseboat, which they anchor in the canal behind her parents' home. Graham has a job studying extreme weather patterns at a marine research facility–a second chance for his career, albeit one that necessitates his leaving home for months on end. Gradually, the reasons for their trauma become clear–Graham's debilitating sleep disorder which threatens his career and even more, a condition called parasomnia that has already had terrible consequences. Georgia has insomnia herself, and in fact the two of them met at a sleep disorder clinic. It's amazing to me that they had a child together.
They settle in. Georgia reconnects with childhood friends and takes a part-time job running errands for a hermit who lives in Stiltsville, a collection of houses built on stilts out in Biscayune Bay, which can be reached only by boat. (Aside: I googled pictures of these and now I want to live there too. I will be a hermit too. It will be lovely. The children can visit on weekends).
Charlie works as an artist. Georgia and Frankie both develop friendships with Charlie, who is fatherly with Frankie and teaches him about the creatures of the sea. I also enjoyed the descriptions of Charlie's artwork, as Georgia must occasionally sort through it and choose selections for gallery showings. She takes Frankie with her out to this house which is surrounded entirely by water, which in some ways is out of character for her as she is a fiercely-protective mother, working with him to teach him sign language and learning it herself, very focused on him to the expense of her time with Graham. As Frankie visits various specialists they pronounce he is dealing with selective mutism, a condition in which  he can physically speak but doesn't. This has ramifications for Georgia, and she finds herself having to face what it will take to keep him safe.
Susanna Daniel is a gorgeous writer, with prose that is layered and dense with meanings, the sort of descriptions into which one can glimpse hidden, deeper things. This is the second book of hers I've read and reviewed, and I love her writing. She creates strong, believable characters and plots that keep you guessing, while keeping things grounded, if that makes sense. Georgia, Graham, and Charlie all face difficult, even unthinkable decisions, and while they may not choose rightly, their choices fit who they are. This is not a book about cliches. So that when Georgia realizes she can't keep everyone safe, you know she is right.
Sea Creatures
is beautifully written and plotted. I didn't want to put it down. I highly, highly recommend it.
One of you can win a copy for yourself. Just start by putting your email address in the Giveaway Tools form below (It's easy — don't worry about the change!), and then leave a comment telling me–would you want to live in a house set above an ocean? I think I would, but then of course there are those hurricanes. The giveaway is closed.
Check out our current giveaways. Subscribe to our feed. Follow us @5M4B on Twitter or on Facebook.