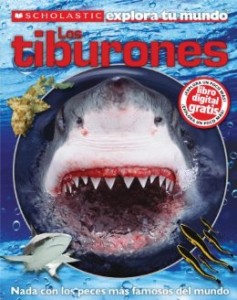 Every once in awhile, I come across a book in Spanish that I just know Little Miss will love. She's in a Spanish immersion program, but she hates to read in Spanish because it's a challenge for her. Once I find a topic she's interested in, however, she gets into the books, and that's exactly what happened with Los tiburones, a Scholastic book about sharks.
The book is a nonfiction work that explores all manner of information about sharks in a great way for a variety of reading abilities. Because the book is chunked into sections with a paragraph or two scattered throughout the page detailing a specific fact about sharks, it isn't daunting to those who aren't quite up to chapter books, but the level of information is in depth enough that it can capture the interest of an older child, as well.
The photos in the book are fantastic, illustrating everything from various species of sharks to what different kinds of shark teeth look like to where different kinds of sharks can be found. The multiple pictures on each page are engaging, most photographs but also illustrations to help clarify points.
The 80 page book is great for research, as well, with an index to find what you need to know. And even though I don't speak Spanish, with so much context throughout each page, I was able to help Little Miss comprehend some of the book when it was difficult for her so that she didn't simply give up when she came across a word she didn't know, and the glossary included also helped.
Needless to say, this ranks up there with our fangs and poisonous creatures books that fascinate my children, and it's one I can foresee them pulling out repeatedly – especially Little Miss – to find and then share facts with me and their friends.
Written by Michelle who is certain that she'll learn more than she ever wanted to know about sharks over the next several months. See what else she's learning about on her blog Honest & Truly! or follow along with her on Twitter where she is also @HonestAndTruly.