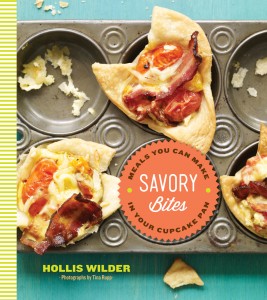 At 9 and 15, they are actually fairly adventurous with their food. They won't eat everything, but they aren't restricted to "kid food" either. But I've discovered that cute food is fun to make and fun to eat. I knew that my kids would really be impressed too.
But that's an important caveat about the recipes in Savory Bites: Meals You Can Make in Your Cupcake Pan. They aren't cute little recipes for kids. In fact, just the opposite. They are sophisticated menu items that I'd love to serve for a party or for guests. In fact, being smaller pre-portioned items, they are perfect for parties.
The recipes all have numerous steps and some call for somewhat unusual ingredients that you might have to purchase, but an adventurous home cook will definitely have fun with them. I have several dinners that I turn to because they are quick and easy to get on the table, but lately I've also enjoyed tapping into my creativity by trying new or more difficult recipes on a regular basis, and Savory Bites is perfect for that!
I've served at least five of the recipes from this book to my family, and they've ALL been a huge hit. The flavors are delicious, and when I make them, it's been worth the effort, because they are definitely something different. I've gotten permission from the publisher to share a recipe here and at 5 Minutes for Mom. These that I've shared are very family friendly, but some others were more complicated, but worth all the steps for the depth of flavor they created.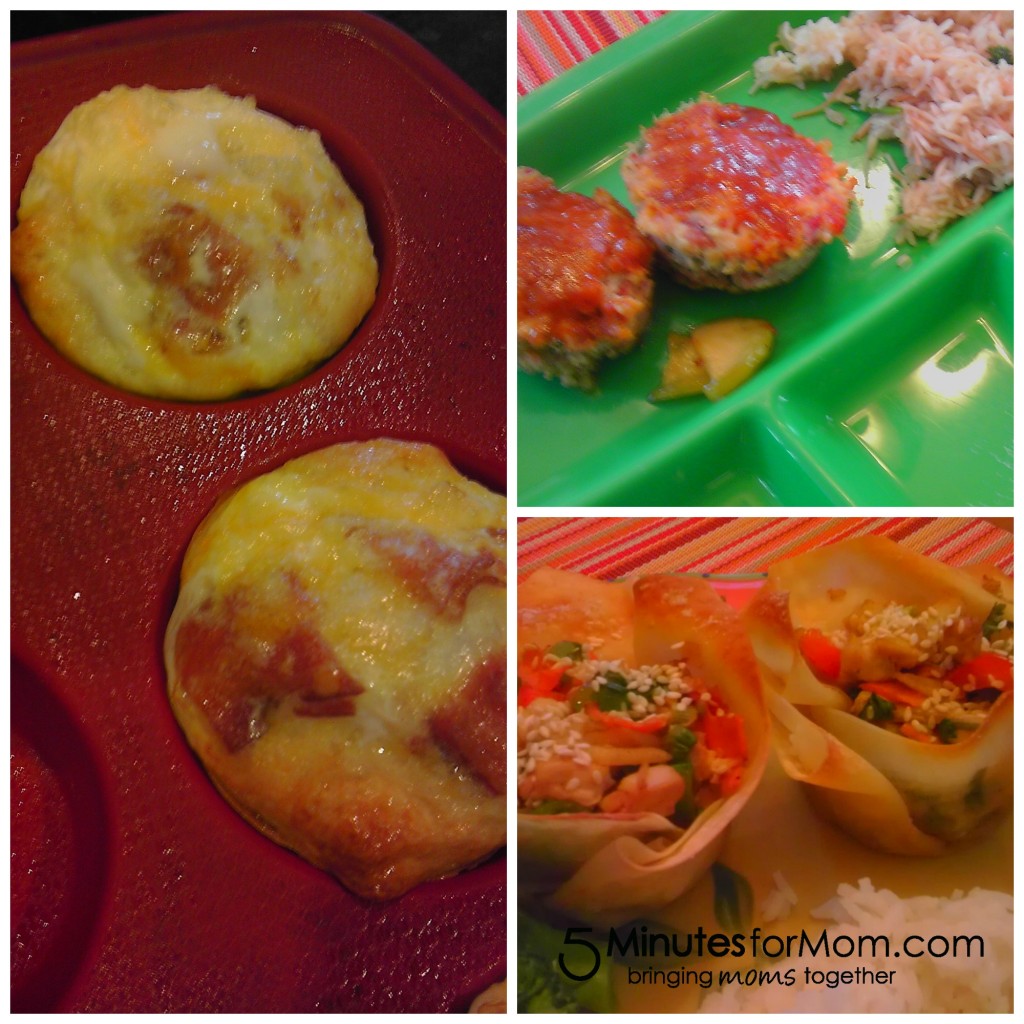 Recipes that we loved:
Egg Mini Muffins (linked to the 5 Minutes for Food column at 5 Minutes for Mom and pictured on the right)
Upside-down Green Apple Ham Loaf (below, pictured top right)
Chicken and Vegetable Rice Vermicelli cups (pictured bottom right)
Beef Tamale Pies
Remember my post a while ago about reading and snacks? And the ketchup survey you took? I hope that you got your coupons for Sir Kensington's ketchup, who sponsored the survey. We've been enjoying ours, and in fact, I used the spiced ketchup in the ham loaf recipe, and I think it really added something. In fact, when I shared some of these with my friend, it was the sauce that stood out to her.
Savory Bites: Upside-Down Green Apple Ham Loaves
Author:
Prep time:
Cook time:
Total time:
For the Ham Loaves
2 T extra-virgin olive oil
1 medium onion, chopped
1 pound ham steak, cut into large chunks
1/2 pound ground veal
1/2 pound ground pork sausage (I omitted this and used more ham and veal)
2 large eggs
1 cup whole milk
1 cup panko bread crumbs
1 T dry mustard
2 T chopped fresh flat-leaf parsley
freshly ground black pepper
Instructions
In a small saute pan over medium heat, heat the oil and saute the onion until soft, about 10 min. Set aside.
In a food processor, pulse the ham several times until it is chopped, but not pulverized. Add the veal, sausage, eggs, milk, panko, mustard, and parsley. Season with pepper and process, scraping down the sides occasionally with a rubber spatula, just until the mixture comes together. Do not overmix. Transfer the ham mixture to a large bowl and mix in the sauteed onion
For the Brown Sugar Mustard Glaze
1/4 cup unsalted butter
1/2 cup condensed tomato soup (or can substitute ketchup — I used Sir Kensington's Spiced Ketchup)
1/4 cup dijon mustard
1/2 cup apple cider vinegar
1/2 cup packed light brown sugar
freshly ground black pepper
In a small saucepan, melt the butter, then add all other glaze ingredients.
Bring to a boil, stirring occasionally, and cook until thickened slightly, about 15 minutes.
For the Assembly
3/4 cup packed light brown sugar
2 green apples, peeled, cored and cut into 1/4 inch slices (I would probably omit this next time, because it wasn't really worth the trouble)
chopped fresh flat-leaf parsley, for garnish
Preheat oven to 350. Spray a 12-well classic cupcake pan with nonstick cooking spray.
Sprinkle the bottom of each well with 1 T brown sugar, then add 2 or 3 slices of green apple, enough to line the bottom of the pan. Distribute the ham mixture evenly among the wells, making sure to even out the tops so they bake flat. Spoon on some of the brown sugar mustard glaze.
Bake until loaves are cooked through, about 20 minutes. Do not exceed 20 minutes or the loaves will dry out. Use tines of a fork between the pan and each loaf to lift it out. If any apple has stuck to the pan, scrape it out to use it to top the loaves. Serve drizzled with additional glaze and sprinkled with parsley.
Store the loaves in an airtight container in the refrigerator for up to 5 days. Reheat, wrapped in tin foil, for 15 minutes at 350.
Check out our current giveaways. Subscribe to our feed. Follow us @5M4B on Twitter or on Facebook.