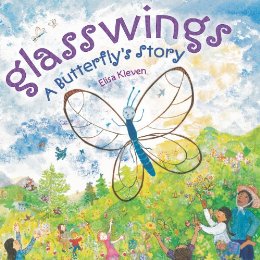 Children's literature and the natural world can make beautiful partners, introducing kids to new and exciting things about the outdoors while also getting them excited about reading. Elisa Kleven's picture book Glasswings: A Butterfly's Story is an absolute win-win in both of these categories.
Before this delightful picture book's story even begins, readers see an informative note on Glasswing butterflies, an amazing species that lives in Central and South America. The name is descriptive of their transparent wings, and beauty can be seen in how they show the colors of the flowers they perch upon. Kleven magnificently weaves natural fact with entertaining fiction in this story.
The story revolves around Claire, a happy Glasswing butterfly who lives among her family, busily flying around and feeding on the nectar of the abundant flowers surrounding her. When a gust of wind carries her away one day, she finds herself in a whole new world, "a city of concrete and corners." It's hard to find flowers to feed on in the city, but thankfully a group of creatures come to her aid. A pigeon, a ladybug, and an ant not only help her to find food in a struggling little garden in a corner lot, but they all come to play an important role in the garden's blossoming life.
As children see Claire and the good that she does as she flies from one flower to another, the idea of pollination is introduced naturally in the story– education in its best form, through storytelling! The vividly colored illustrations evoke a lush setting in Claire's home, and diversity is apparent in the people portrayed in the pictures, as well. The text lends itself well to a read aloud experience, and children have much to look at in the engaging illustrations.
You definitely want a copy of Glasswings: A Butterfly's Story in your child's collection or in your classroom, trust me. We have one copy to giveaway to a lucky reader today. Leave a comment telling us how you like to help children learn to appreciate nature to be entered into the giveaway! (U.S. mailing addresses only, please.) This giveaway is now closed.
We have two giveaways closing today:
Check out our current giveaways. Subscribe to our feed. Follow us @5M4B on Twitter or on Facebook.