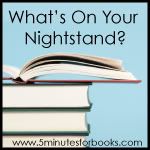 It's the back to school edition! Even if you don't live by the school calendar because you have kids too old or too young for the back-to-school season, or you don't have kids and don't teach yourself, there's something about late August/early September that means a fresh start, right?
Maybe you have a fresh approach to your reading in mind. Maybe the school season means you are busier homeschooling or teaching or keeping up with your kids' activities, so you'll have less time for reading, or maybe the cooler weather (that's just a dream here in Texas) and the absence of kids in your house lends itself to more time spent reading.
Regardless–let us know what you are reading this month and/or what you finished for the month. Link up your blog post below. If you don't have a blog, join in the comment section below. And be sure to visit around and see what our bookloving friends are reading.
Check out our current giveaways. Subscribe to our feed. Follow us @5M4B on Twitter or on Facebook.