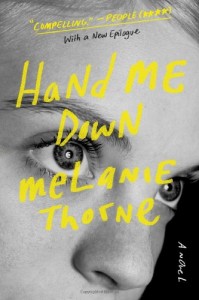 Hand Me Down by Melanie Thorne was a hard novel to read. It is the story of fourteen-year-old Liz, who is moved around from home to home, put second after a man in her mother's eyes, and second to booze and money in her father's eyes. She worries. She worries that no one will want her. She worries for the safety of her younger sister. She worries that she won't be able to keep it together through high school enough to gain entry into college, which she knows is her way out.
When her mother's new husband gets out of prison, she asks Liz to move out, because his parole officer won't let him live in a house with a female minor. Liz hasn't been comfortable living with him anyway, but she doesn't have anywhere to go. In spite of her unease, she would rather stay if she could, if her mother even wanted her to. Her sister goes to live with her father, but there's no way Liz is doing that.
She's handed down to a distant relative. It's okay for a while, but she soon feels like she's overstaying her welcome. When her aunt invites her to come to live with her, she gets on a plane as soon as she can. She feels at home. She might even be — dare she say it — happy?
My heart ached for her and yet also rooted for her as she continued to choose mostly well, in spite of her emotional and physical hurts. There's no happy ending tied up with a pretty bow, but it's real. In fact, the reason I read these kinds of novels and memoirs is to remind me of the real hurt that people have endured. I am also reminded of the strength that is borne in people like Liz when they survive.
That said, sometimes these kinds of stories are more explicit than I am comfortable with. In this case, the content was not overly harsh, given the subject matter. Liz's voice was true and compelling, not overly optimistic or pessimistic or reflective. This is an adult novel, but with crossover appeal to older teens.
An epilogue at the end did tie up some loose ends about Liz and her family, which left me feeling satisfied.
In addition to the review copy I received, the publisher has offered TWO copies of this book. Just leave a comment if you'd like to win. We'll announce the winners in the May 22 giveaway column.
The giveaway is closed.
Check out our current giveaways. Subscribe to our feed. Follow us @5M4B on Twitter or on Facebook.