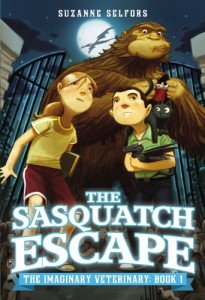 When I was offered a copy of The Sasquatch Escape, book one in the The Imaginary Veterinary series (with book two due out in September) from Little, Brown Young Readers, I accepted it knowing it sounded like the kind of middle grade fiction I enjoy, with hopes that my 3rd grader would enjoy it as well.
When Ben Silverstein's grandfather picks him up from the airport to take him to Buttonville where he's been sent by his parents for the summer, things don't look so good. Ben has already gotten in trouble for telling "stories," such as those designed to convince his mom to let him stay home. The town is nothing like his home in Los Angeles. It's a sad and run-down town, and I felt sad for Ben, driving in silence with his grandfather and wondering how he was going to survive his summer.
But before too long, things look like they might get better. Grandpa Abe turns out to be a kindhearted guy who encourages Ben's friendship with Pearl, even though the rest of the town sees her as a troublemaker. It turns out that it's generally a case of being a little scatterbrained and not thinking before she does things like pouring blue dye in a neighbor's fish pond. But her fearless initiative is just what Ben needs when he finds what looks like a baby dragon. Pearl is sure that she saw a flying dragon land on the roof of the old button factory, and she finally convinces Ben to go with her to check it out.
The factory has a sign on it saying it's now Dr. Woo's Worm Hospital, but when her assistant Mr. Tabby sees what they've brought, he lets them in and they find out the truth, that it's a hospital for creatures from the Imaginary World, creatures who must never mix with the Known World. Unfortunately, they don't close the gate behind them and a Sasquatch who is currently being treated for a foot fungus gets out, unleashing the Imaginary World on the unsuspecting citizens of the Known World of Buttonville. Mr. Tabby believes that Pearl and Ben should make it right, and send them out with the Sasquatch Catching Kit.
I enjoy books that suspend reality a bit and encourage kids to have an imaginative spirit. That's exactly what books did for me when I was a kid. A giant mythical creature aside, the adventure of Ben and Pearl, and the hint of further adventure to come, allows kids to imagine that they themselves might be one day asked to help capture something and return it — and their town — to safety.
This is a shorter chapter book, perfect for younger readers first taking on chapter books, but also equally interesting to older kids who like shorter books. It's 200 pages long, but it has large print and fun and evocative drawings from Dan Santat throughout, which breaks up the text and adds to the story. I do not remember any objectionable content such as questionable language bad attitudes that would make it inappropriate for younger readers.
I'm happy to report that my son gave it a hearty thumbs up as well.
I'm equally as happy to mention that LB Kids has offered up a giveaway copy to one of you. Just leave a comment below if you'd like to win. We'll announce the winner in our May 8 giveaway column. This giveaway has been closed.
Though she's well past middle grade herself (and well into middle-age), Jennifer Donovan still loves reading middle grade fiction. She especially enjoys sharing these books with her middle grade son and a teen daughter who is also still charmed by great fiction, no matter who the target is. She might one day blog in more depth at Snapshot about such parenting joys.
Check out our current giveaways. Subscribe to our feed. Follow us @5M4B on Twitter or on Facebook.