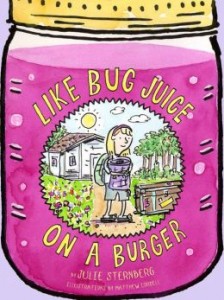 At nine years old, the idea of sleepaway camp is exciting and scary all at the same time. When Eleanor's grandmother treats her to a trip to the same sleepaway camp her mother attended as a child, Eleanor hopes she'll leave camp with as many happy memories as her mother. The first few days of camp, however, turn out to be not so great. With her knack for words, Eleanor thinks camp is so bad that it's Like Bug Juice on a Burger.
You may remember Eleanor from Julie Sternberg's Like Pickle Juice on a Cookie, in which eight-year-old Eleanor had to say goodbye to a beloved babysitter who moved away (linked to my review). As with the first book, this chapter book is wonderful for newly independent readers, with short chapters and a simple writing style, but still maintaining a great story that will be accessible to young readers.
As Eleanor packs for camp, a bit of worry starts to set in, and she wonders what it will be like to be away from her parents for several days. When it's time to board the bus leaving the city for camp, Eleanor suddenly thinks that she just can't go through with it, holding on to her dad's hand until the very last moment. But then she's on the bus and on her way. It doesn't help matters that the first hours of camp see her falling and scraping up her hands, knees, and chin, and then discovering that the camp menu doesn't have much in the way of foods that she likes. But when she doesn't get placed in the same level group for swim lessons as the rest of her cabinmates, it's the last straw. She writes home begging for her parents to come rescue her, using the "secret code" she asked her mom to remember. How many more days will she have to endure?
Like many nine year olds, Eleanor experiences big emotions, and Sternberg finds just the right words to give Eleanor an authentic voice. When Eleanor writes an anonymous note for the "Feelings Wall," readers will understand the depth of her emotions:
I hate camp.

I just hate it.

I wish I didn't.

But I do.

Being here is worse than bug juice on a burger.

Or homework on Thanksgiving.

Or water seeping into my shoes.

I want to go home right now.

I really do.
As I read this book with my five and six year old kids, they were really concerned that Eleanor was having such a tough time at camp, but they both were optimistic that something good would happen to help her feel better. Astute they were, for Eleanor does begin to find some bits of fun as the week goes on. I was happy to see that her emotional journey through this book was a realistic one, not too contrived or extreme. Eleanor may not turn out to be the biggest fan of camp in Like Bug Juice on a Burger, but she certainly leaves with some happy memories just as she had hoped.

Also available online are activity suggestions to accompany both books starring Eleanor, for extension experiences for your young readers.
Dawn wonders how she'll feel sending her own kids off to sleepaway camp someday. The mixture of emotions will perhaps make for good fodder for her blog, my thoughts exactly.