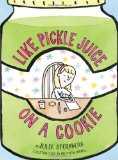 When a beloved person in a child's life moves away, the loss can be so significant as to affect all other aspects of his or her life. Julie Sternberg's Like Pickle Juice on a Cookie brings this situation to life with a dear character in a lovely short chapter book format.
This book is advertised as for readers aged 9-12, but the general feel of the book skews younger, in my opinion. I'd go in the 7-10 age range, and while that might not seem like that big a difference to some folks, I believe it is significant. The chapters are short, and the text is heavy on simple dialogue. This would be perfect for a parent-child read aloud, or for an independent reader to tackle on her own.
The story portrays the emotions felt by children when someone they love moves away, and is written from the perspective of an eight year old girl, Eleanor. When Eleanor's babysitter Bibi must relocate to Florida, she is left wondering how life will ever again feel normal. Bibi was the only sitter she's ever known, and it's clear that their relationship was full of love. Things are changing fast, and Eleanor is not sure what to make of her new sitter or what to expect from third grade. As the summer comes to an end, Eleanor finds that she can again feel comfortable and loved, even when life changes.
Friendship, love and life changes are handled tenderly here, and the format of this slim novel makes Like Pickle Juice on a Cookie a great summer read for children on their own or shared with a parent.
Dawn loves sharing books with her own children, knowing that soon enough they'll be reading on their own. Their adventures, both bookish and non-, are shared on her blog, my thoughts exactly.