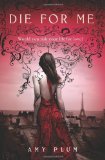 An interview with my daughter Ilsa, 14, about the book Die for Me
What did you like about this book?
It was about as good as a book can get when it involves French zombies and crazy sisters! I thoroughly enjoyed it.
Tell me about what happens.
Kate's parents die and she and her sister move to Paris to live with their grandparents. She meets Vincent while she is trying to forget her grief by reading in a café. He turns out to be a good zombie, giving up his life to save humans. (In the book, one becomes a zombie by sacrificing your life for another's; this doesn't always happens, but once it does, you are fated to repeat this) Sadly, Kate realizes that they can never be together because she can't stand to watch him die again and again especially because every time he dies, he goes back to age at which he first died, 18, whereas she is of course aging normally.
Who are the bad guys?
It's very complicated. There are evil zombies, like good zombies in reverse. It is their nature to kill, not save, people.
Tell me about the crazy sister!
Kate's sister, Georgia, parties to forget her grief. She's amazingly loyal, but sometimes flies into rages.
Is this a romance?
Yes. Two people fall in love and have to surmount incredible difficulties to be together, given that he's a zombie and all.
What was the best part?
It's too hard to pick. I loved the whole book.
This book is one of the 7 in Harper Teen's Dark Days of Supernatural releases.
Elizabeth sometimes vies with her daughter over books. Read more of their interactions at her blog Planet Nomad.