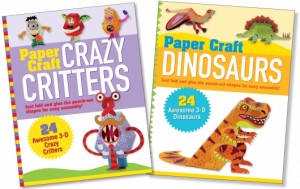 'Tis almost the season when parents everywhere begin looking for special activities and fun things for their children to do while they are on summer vacation. We home school in Oregon year 'round. That means that while we aren't necessarily focused on special activities for summer, we're always on the lookout for something fun to do when it's raining. Indoor activities are a big deal to us!
Recently I was sent a copy of Paper Craft Crazy Critters
and Paper Craft Dinosaurs
to try out with my kids.
Now, these books happened to arrive on our doorstep on a sunny day in the Spring (rare!) so I thought we'd build one of these  3D models while sitting outside and soaking up some Vitamin D. We gathered up our glue sticks, choose a crazy critter, easily popped out the model and began putting it together.
Here is where I should mention that my children are ages six and four. My six year old was quite excited and ready to conquer the models all by himself but they didn't work as well for him as he might have liked. The card stock at the models are printed on is nice, thick and strong. Ihe pieces for each model are very easy to pop out and manipulate as needed. Our problem was primarily with the glue sticks. These models will not hold together with your common glue stick. You really ought to use regular glue which is what is recommended by the manufacturer and suggested in the book. Secondarily, we had issues with the tiny little tabs which need folding and holding down and that was impossible for my four-year-old and difficult for my six-year-old. (In fact, the book is flatly not recommended for kids under 4.) That said, the quality of the paper, the bright, bold colors and silly designs of the animals make these models hugely attractive to the kids.
I have nothing but positive things to say about these books. I think the 3D models are well designed and given age and proper gluing agents, would be easy for kids to put together. My six year old agreed that these were lots of fun but that we should likely put them away for another year or so. He enjoyed doing it with me but it's just a bit outside of his personal reach at this moment. (That or I'm just not crafty at all and haven't given him adequate opportunities to glue tiny things. Take your pick!)
I would recommend these 3D models to any kid age 7 & up who can glue and manipulate small items for themselves. Each model will take time to build, but the end result is a cute little critter, such as this one, to play with: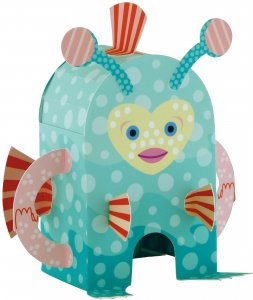 Many thanks to Peter Pauper Press for sending these models our direction. My kids truly did love the look and feel of them. We completed one model (which had larger tabs) as a team and it held together well and brought much enjoyment. I've no doubt that in another year or so these will be a huge hit as a personal project and so we'll tuck it away for a bit for optimal enjoyment.
Carrie is not crafty at all and is therefore always on the lookout for books such as these to give her kids a chance to do something "artsy" every once in awhile. She blogs about her creative finds over at Reading to Know. And mostly she blogs about books which she and her children read with some regularity, there being plenty of time in Oregon available to read!