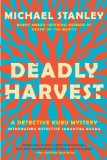 Deadly Harvest
, the latest of the Detective Kubu series, opens with a young girl on her way home from school, her head already full of Christmas even though it's still months away. A man, known to her, offers her a ride, and she's never seen again. Her sister is convinced something terrible has happened, but the local police aren't too concerned about the disappearance of a small girl, an AIDS orphan living with an aunt.
So the case languishes, until newly-appointed Detective Samantha Khama, first female detective of the CID in Botswana, makes it her business to take on cases related to women and children. Her concern is tied to her close friend, Segametsi Mogomotsi, who disappeared when they were 14. Segametsi was a real person who was abducted and killed for muti, the practice of using human parts in powerful witchcraft, and the authors use fiction to bring light on a true situation. Years later, Samantha is reminded of her friend when yet another young girl disappears, and her father takes things into his own hands in his desperate search for her.
Detective Kubu is still loving life with his wife, Joy, and their beloved daughter, Tumi, who's now 3. He is assigned to mentor Samantha, a young, bright, intense young woman who is immensely aware of the need to prove herself in a male-dominated workplace and society. He is also assigned to protect an upcoming young politician, who is murdered. Soon the crimes begin to converge, and Kubu and Samantha become convinced that they are chasing a killer who not only traffics in children but who covers his tracks with a deadly miasma of terror, so much so that no one wants to speak out against him. A witchdoctor who claims to be invisible and who has a series of steps in place before he'll show himself, a witchdoctor who involves the one seeking power and protection in actual murder and thereby buys their silence with complicity, is a powerful enemy, but Kubu and Samantha will not be deterred in their quest to bring him and his grisly trade to light.
Deadly Harvest
is the fourth in the series of Detective David "Kubu" Bentu. His nickname means "hippo" and references not only his size but his apparent docility which hides a keen, cunning mind and a determination to rid Botswana of crime. This is the second Detective Kubu book I've read, and I'm really enjoying the series. I like how they show modern-day Southern Africa, and the decisions that people make as they deal with modernism, globalization and technology on the one hand, and older traditions and beliefs that continue to cling on on the other. Whether you enjoy mysteries or like reading about life on another continent, I highly recommend both Deadly Harvest
and the series as a whole.