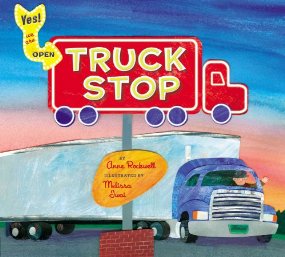 When I heard that Anne Rockwell had a new picture book coming out, I didn't hesitate a moment to accept the offer for a review copy. As a preschool teacher for twelve years, I've routinely relied on her collection when setting up my classroom book selections. Rockwell has a way of creating engaging stories that provide information on topics of interest to young children, and she has done just that with over 100 titles under her belt!
Rockwell's newest is Truck Stop, a story about a highway truck stop rest area told through a young boy's eyes. Each morning, the boy and his parents open the truck stop up for business, and there's a flurry of activity all before the boy catches his morning bus to school. The boy introduces "the regulars" as they arrive at the rest area, hungry for breakfast and needing service for their vehicles. The boy and his parents run the truck stop very well, remembering folks' orders and greeting everyone by name. Soon, everyone realizes that one regular customer hasn't made an appearance yet, unusually late for him. It's not until the boy leaves on the school bus that he sees that missing customer's truck broken down on the side of the road. Thankfully, a tow truck driver is back at the truck stop and is called into action.
As each customer enters the truck stop, a new vehicle is introduced, including a flatbed trailer truck, a milk tank, an 18-wheeler, and a moving van, with even more types of vehicles filling the endpages of the book. The text is simple but engaging, and Melissa Iwai provides colorful illustrations that will draw in young readers, especially those already interested in trucks. The concept of a highway-side truck stop might be a new one to some children even though most have seen a big vehicle barreling down the highway next to them at some point, and Truck Stop is the perfect way to introduce the idea.
Also, on her website, Melissa Iwai has some story-related activity pages available for download for children to enjoy after reading the book.
We're happy to offer one copy of Truck Stop in today's giveaway. Please leave a comment below to enter. Giveaway is open to US addresses only, please. We will announce our winner on 5/29. This giveaway is now closed. Thanks to all who entered.

Check out our current giveaways. Subscribe to our feed. Follow us @5M4B on Twitter or on Facebook.