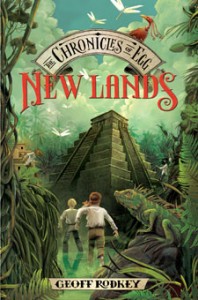 I wrote last month about the first book in the Chronicles of Egg series, Deadweather and Sunrise, by Geoff Rodkey. Deadweather and Sunrise is now available in paperback, and better yet, the next installment of the series is out as of May 2. New Lands picks up right where Deadweather and Sunrise left off with Egg and Guts on their way to Pella Nona where Natives (yes, capitalized) live who can hopefully translate the map that Egg now has memorized after destroying the original wall map in the first book.
Needless to say, this is not one of the series where each book stands on its own. Too much of what happened in the first book – from characters to experiences that explain reactions – is a part of New Lands. This is a series where you want to read each book in order. And in our house, that meant that Mister Man and I kept fighting each other to read New Lands. I would start it and put a bookmark in it and set it down in the kitchen, then it would go missing. I'd track it down to an open page sitting on the steps and take possession of it again, only for the same scenario to happen again. I finally just sat down and read the entire book, and Mister Man keeps asking if I've finished so that he can read it without my interruptions.
That bodes well for a book, right?
It's a great middle school read, with plenty of adventure in the 13 year old heroes' lives (because yes, Egg is the central character but Guts and Kira and Millicent all have their moments in the sun) with a touch of romance thrown in, though a very innocent romance. What isn't so innocent is the determination of Pembroke to track down Egg and get the map from him so that Pembroke can find – and control – the lost Fist of Ka.
Typical teens, Egg thinks only so far as his next step, much as he tries to plan in advance. He gets a rid to the right island but then finds out that the island has a law against citizen from Rovia (and yes, he's Rovian) setting foot there, but he always finds a way to push through whatever struggles he has from finding food to negotiating with people whose language he doesn't understand to finding a way to keep his quest to translate the map alive. And it's a madcap adventure all the way.
Fortunately, Bella Nona is a very friendly city and the captain has only scared his crew to ensure that they never set foot on the island, as they'd likely never return to his ship. Egg and Guts manage to find a way to earn a living , with Guts being a surprising virtuoso on the guitar with his hook. Unfortunately, the wrong people spot Guts and Egg, and they are kidnapped and about to be returned to Sunrise and Pembroke when Millicent – who was supposedly on her way to boarding school – rescues them.
The ending isn't as predictable as you might expect for a middle school adventure novel. There are quite a few twists and turns that keep the reader entertained, and by the end, a big surprise opens up the next chapter for a third book in the series. And the fact that I'm anxiously awaiting the release of book three? Well, maybe I'm just a kid at heart, but it was a good book.
As in the last book, there is a certain fascination with swearing, particularly for Guts. The actual words are blanked out, but there's a decent amount of "She's a—- —–!" in the book. I hesitate a little to let my nine year old read it, but so far it's going over his head to some degree that they're swearing or what the blanks would be filled with. Guts does receive quite the education in swearing in Cartager, however, and those words (which are never actually translated) are used throughout the book. That's the only real reservation I have, as there is less violence in this book than in most television shows kids watch now, although anyone with a sensitive nature should probably avoid it.
We have a giveaway for one of you (U.S. and Canadian residents) — one paperback copy of The Chronicles of Egg Book One:Deadweather and Sunrise and one hardcover copy of  The Chronicles of Egg Book Two: New Lands. The giveaway is closed.
Leave a comment if you'd like to win. We'll announce the winner in our May 15 giveaway column.
The winner of the Jeremy Camp book and CD is #6 Amy
Find out more about the series:
Michelle is thrilled that she and Mister Man are fighting over books and can't wait for both the wee ones to grow up more so she can share even more books with them. See what else she shares with them on her blog Honest & Truly! or follow along with her on Twitter where she is also @HonestAndTruly.
Check out our current giveaways. Subscribe to our feed. Follow us @5M4B on Twitter or on Facebook.