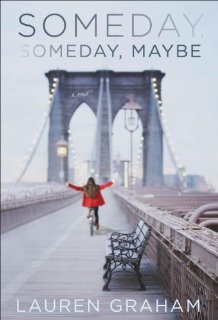 Someday, Someday, Maybe: A Novel gives us a glimpse of a woman in her 20's trying to make it as an actress in New York City. Franny Banks gave herself three years to give acting a try. When she realizes that her deadline is almost up, she entertains the idea of quitting. Of course, she also entertains the idea of extending her deadline or relaxing her standards: Does one commercial count? What about getting an agent?
The 90's setting was fun, as was the "workplace" setting of an actress trying to make it, be it at acting workshop, an audition, on set, in an agent's office, or working the part-time job that pays the rent.
And of course, there's the love angle. The men in Franny's life include her on-again off-again boyfriend (the right guy, but the wrong timing); the actor; the sweet friend. These characters are all fully developed, and add to the story, as do her roommate and best friend Jane, her father — who she mostly communicates with via answering machine businesses — and the actors and others in showbiz.
This is a story of dreams. What does it cost to pursue a dream? What does it take to catch it? We root for these supporting characters, really everyone, since there are not any purely "bad guys," but this is really Franny Banks' story.
Someday, Someday, Maybe is written by Lauren Graham, the actress known for Parenthood and Gilmore Girls. For some, this will be a draw (like it was for me), and for others, you might poo-poo the idea of another "celebrity author." If you are a fan of the self-deprecating yet self-aware witty banter that Lorelei Gilmore was known for, I think you'll also like Franny Banks. This novel was a quick, funny, light, warm-hearted read — a great debut.