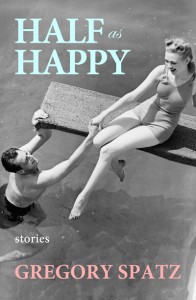 I've always been attracted to short story collections. There's something about the way an author of a short story has to jump right into the thick of it from the beginning. There are no words to be wasted, and every breath of the story counts. Gregory Spatz has certainly made every single word matter here, with Half as Happy, a collection of eight stories all linked by common themes of disenchantment, loss, and a depth of human emotions.
Spatz is clearly a talented story teller, and it doesn't take long into each story for him to set the tone. The first story, "Any Landlord's Dream," opens with a description of a house awaiting renters, and in those few sentences, I was there in the living room, smelling the musty air and feeling the weight of the unrented space on the landlord's shoulders. In under thirty pages, Spatz lays out a story with the depth of a novel, a tale that brings us deep into the relationship of Seamus and Carolyne, a couple still reeling from the loss of a child, each looking to this new home to bring something to their lives. But rather than their ideas being in line with each other, the move only allows them to drift even further apart, and readers witness their unaligned desires and actions as if viewing from a "fly on the wall" position. When the landlord finds himself in a position for an unexpected moment of voyeurism, the parallel is apparent.
In "No Kind of Music," another failed relationship plays a key role in the story, and as with Seamus and Carolyne, there are plenty of moments in the memories of Patrick and Charlotte's marriage that could have had different outcomes, had something been said differently, or had one partner reached out to the other in a slightly altered way. But with each experience, the things said or the reactions given add up, and in Patrick's case, the result was the departure of Charlotte, leaving him alone and adrift. His fascination with classical music provides an outlet for him, though it's one that only seems to bring him into a deeper melancholy, a beautiful yet harrowing recognition of self.
While there is no abundance of joy in this collection, the beauty here is to be found in the sorrow and the complexities of each tale. Though the stories are short, they are to be savored. Too often, I found myself rushing through, propelled by the emotion, but I forced myself to go back and truly feel each sentence, for Spatz is at the top of his craft here, and he is a master with words. Pick up Half as Happy for a deeply affecting read, a small package with a big impact.
Dawn loves the practicality of reading short stories when the busy days don't allow for nearly as much reading as she'd like. Every once in a while she blogs at my thoughts exactly.