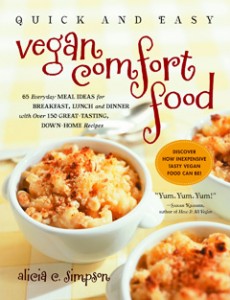 No, I'm not vegan. But occasionally I cook like one. I don't mind leaving out milk products every now and again but I do have a thing for cheese. That seems to be the biggest problem between me and veganhood and why it will likely never happen. (That and eggs. I really don't see a need to ditch eggs.) Still, life in Oregon finds me surrounded by people who do strive to eat local, healthy foods and I have a few vegan friends. Because I like to invite people over and make food that they enjoy eating, I was curious to check out Quick & Easy Vegan Comfort Food
.
As Alicia Simpson explains in her introduction, she also had a "thing" for cheese which made it hard for her to make the leap into veganism. Yet, she managed to overcome this problem and enjoys her new lifestyle. In this book, she provides over 150 easy meals. Really, once you start looking into it, eating or cooking this way is not that weird or hard to manage. Mostly, deciding to go vegan involves changing your pantry supplies up a wee bit. In fact, one of the things I most appreciated about this book is that Simpson takes the time to explain some basic items that you'll need to stock up on in order to make these – or any other vegan-friendly – recipes. She explains things like nutritional yeast, for instance, which has been flying near my radar for some time and I've been becoming increasingly curious about. She lists vegan subsitutes and argues that cooking vegan is roughly the same cost as cooking for your regular "American diet". (Think about it: the cost of meat these days, not to mention cheese and milk, is pretty hefty. Cut those items out and you have room in the budget for fresh veggies and whole grains. Then, too, there are The Beans.)
Recipes you will find in this book include: loaded baked potato soup, garlic green beans, carrot and raisin muffins, homemade veggie burgers, portobello fajitas, as well as some dessert items like peach cobbler and peanut butter cookies. There are recipes for main dishes, side dishes, salads, sauces, dips and desserts. I've made the loaded baked potato soup and can testify to it's deliciousness. (You use soy milk – or almond milk – to make it creamy.) Eating vegan isn't as scary or disgusting as its sometimes made to sound. I'm learning that there are so many ways to make eating healthy a delicious experience.
My family is likely never to go vegan, but it's nice to know how to cook that way. Since my husband doesn't insist on meat at every meal, we have freedom and flexibility to experiment with other sources of protein and it's fun and useful to broaden the culinary experiences.
This is a handy little book and I'm glad for the chance to check out some new-to-me recipes in this department!
Thanks to The Experiment for sending a copy of this book my direction in exchange for my honest thoughts.
Carrie blogs about books of all sorts over at Reading to Know.com.