Last month I shared reviews for the Cybils Middle Grade finalists I read as a round 2 judge, since I was prohibited from reviewing them during the deliberation period. I promised reviews of the remaining two, which I wanted to post separately, since I think they are more appropriate for older readers.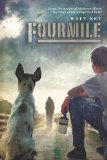 Twelve-year-old Foster lives on a farm in Alabama with his mom. He's still dealing with his father's death, and now he's dealing with his mom's boyfriend, who is not a nice guy. When a drifter ends up staying with them, Foster is able to come to terms with his lack of a father-figure, but there are also many questions that are raised.
The last third of Fourmile by Watt Key is one of the most intense reads I've experienced in a while. I don't read a lot of truly intense books, but this one definitely was, which is only one reason that I recommend this for older readers (like probably 8th on up, though kids used to PG-13 material of any age could handle it). There was also a fair amount of swearing in the first few chapters. It will definitely appeal to kids, especially boys, who like a good suspenseful story, and the emotional issues raised by Foster are sure to resound with those who may have been abandoned or any who are confused about their adolescent identity. It's a good, but difficult, story.
The Lions of Little Rock by Kristin Levine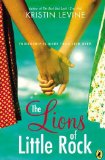 This was a delightful historical fiction novel set in Arkansas in the midst of attempted (forced) school segregation. As I've read Cybils' fiction each year, those set in this time have been among my favorite historical fiction novels. I think that kids are interested as well, mostly because they are somewhat baffled by it.
In addition to this being a good story of Civil Rights, it's just as strong — or stronger — on the theme of friendship, and also quite inspiring about overcoming your fears. It really packs a punch, and I highly recommend it for boys or girls, probably 6th grade and up, depending on maturity level. There's no real objectionable content, but there are disturbing thoughts and behaviors and violence in keeping with the reality of what went on in this time period, in addition to some mild romantic content.
I think this could appeal to boys and girls, because though the 2 main characters are girls, there are many strong secondary boy characters. I wanted to show both the hardcover cover (below) and the upcoming paperback cover. The hardcover is just blah, yet gender neutral, while I think the softcover is going to scream "girly" to any young man out there who might attempt to read it. That's one good thing about ereaders, because you can put books on there and forget about the cover (and no one else will see them either!