Last year one of my yearly goals or "resolutions" was to focus my reading in a couple of areas:
including some personal reading picks in addition to my review books, in the range of around one a month
making more of an effort to read/study Christian nonfiction books
I did meet both of these goals, and as a good resolution will do, they each created new habits. I have been making sure that I always have a Christian nonfiction book in rotation (right now it's The Fruitful Wife), and I've loosened my grip a bit on requesting review copies to leave some time to read books "just because."
Along those same lines,  I've decided this year to try to revisit certain books that are either all-time favorites or otherwise memorable reads. There is a comfort in reading the familiar, books I know that I'll love, that have moved me or inspired me in some way. Back in the Mitford days, I turned to those books time and again for comfort, each time a new one came out, but now there are so many books out there that I have the opportunity to read, that even with series, I generally avoid re-reading. Revisiting a story in the form of the next installment in a series still serves to give me that familiar comfort.
But there are some books that I keep thinking about. They've impacted me, and I've recommended them to others, and I wonder if they'll be as good a second time around.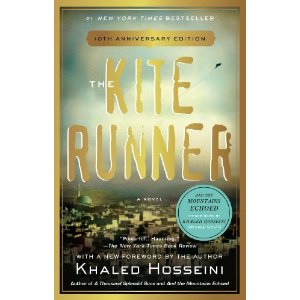 Kite Runner — I started off with this one, reading it earlier this month (click through my link to enter to win your own copy!), and I did enjoy it, but there's nothing like reading something for the first time. It will be interesting to see how these others fare.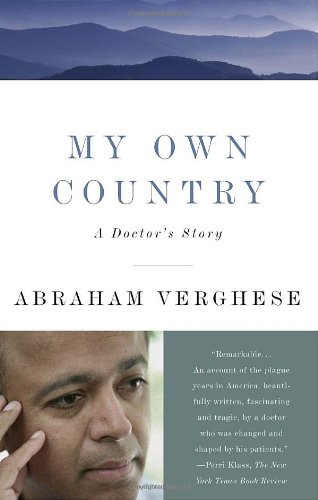 My Own Country: A Doctor's Story — Abraham Verghese's novel Cutting for Stone has gained him some critical acclaim (click through to read my thoughts on the novel, and also a few on this memoir), but I like to say "I knew him when. . . . " In fact, I picked up the novel because of the way that this memoir hit me. I read it back in the late 90's, I think, when I would just browse the library looking for something interesting. This story about an immigrant's experience in the U.S. (always interesting for me), living in rural Tennessee (an interesting setting always puts a book over the top), and during the early months of AIDS diagnoses, plus Verghese's honest writing style made this memoir hit all the right notes with me.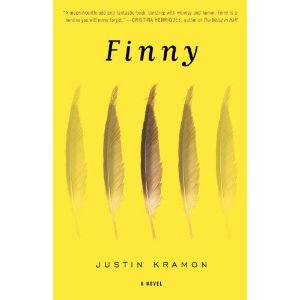 Finny — I've read this book far more recently than others on the list. I first read it a few years ago when it came out, and I really liked it. It had the right mix of humor (which had me laughing out loud in places), and heart, quirky characters and real reactions. I really loved it, and often recommend it to others. There is some mature content and language in it, and so I've held off recommending to others (I lent my friend a pile of books, and her mother got to it before she did, and read Finny. It was a little different than her normal Christian fiction or historical fiction diet of reading, and widened her eyes a bit, but I think she liked it). So, I'd like to see what I think about it with a second look.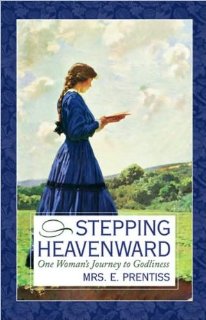 Stepping Heavenward — I read this book close to 20 years ago. I don't remember who recommended it to me, but as a young wife, and someone on a journey to mature as a Christian, it was so helpful. It's an autobiographical novel, written in a sort of journal form, written by Elizabeth Prentiss in the mid- 1800's, but it's so relevant today. I gave my copy to a young married friend last year, and she loved it too. It's a book to be savored. I actually recommended that my teenager Amanda read it, but my replacement copy had an old weird-looking cover, and she was not at all interested. Perhaps we'll read it together, either aloud or separately.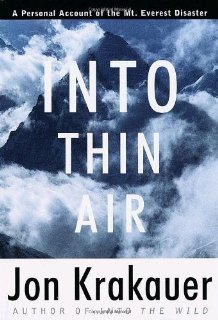 Into Thin Air — A book that my dad enjoyed, my husband enjoyed, I enjoyed, and anyone I've ever spoken to has loved. I read it at least 15 years ago, but It's "interesting non-fiction" at its best. Talk about a unique and interesting setting — Mt. Everest! Jon Krakauer writes chilling prose, and I'd love to experience it again.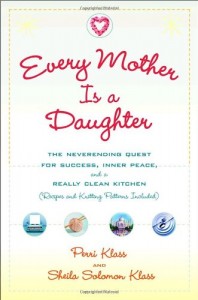 Every Mother is a Daughter — This was one of the first audiobooks I listened to once I got my ipod and started loading it up with titles six years ago. I loved it (follow the link there to read my initial thoughts). I bought the book, knowing I'd want to revisit it as some point, and even loan it out, but I never "read" it. I tried listening to the audiobook again, but got distracted. I'd like to read the book, because it's a memoir of the best sort, involving mothers and daughters, travel, disagreements, unconditional love, told in alternating chapters from daughter Perri Klass and mother Sheila Soloman Klass. The Klass women are self-aware and self-deprecating at times. I truly fell in love. Now that my mother is gone, and my daughter is a full-fledged high schooler, so close to being on her own, I would bet it will mean even more to me.
Just reading over these books and writing up what I love about them has me smiling. I can't wait to get to them during 2013.
I have some questions for you:
Are any of these books on your list of favorites? I know that some are fairly well-known and others are rather obscure.
Is there a book that keeps haunting you (in a friendly way)? Tell me about it in the comments.