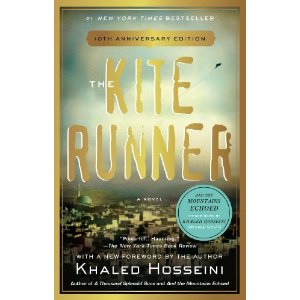 The Kite Runner is probably on my all-time top 10 list of favorite or most memorable books. Before reading it, I, of course, had heard how wonderful it was, but it didn't sound like something I wanted to read to take my mind off of my busy life as a stay-at-home mom of two young children.
In the summer of 2005, I finally purchased it and took it with me on our beach vacation. I knew it wasn't exactly light beach-reading fare, but vacations are when I was typically able to get in a lot of reading, and I wanted to read something good, so into my beach bag it went.
Once I started it, I couldn't put it down. I was drawn into Hassan's and Amir's world: young men growing up in Afghanistan in the late 70's. It's a novel of friendship and love, of insecurity and submission, fighting for one's place and shying away from what is right. It's a novel about regret and restoration.
Since it's been many years and even more books since I read it, I didn't remember the details, which made it an interesting experience. I remembered a couple of the basic plot points, but there were so many that had completely slipped my mind, for which I was grateful. I remembered being especially touched by the move to America and their time there but had forgotten much of what happened beforehand and after.
I loved the comfort of re-reading, for it is a comfort, but it was a perfect combination of the familiar and rediscovering many things as if for the first time.

We are hosting this giveaway of The Kite Runner, 10th anniversary edition sponsored by the publisher to help spread the word about Khaled Hosseini's new book And the Mountains Echoed which comes out May 21. I can't wait!
If you'd like to win a copy of The Kite Runner, just leave a comment here. Tell me if this will be your first time to read it or if like me, you want to re-read it. We'll announce the winner in our book review giveaway column on April 3.  The giveaway is closed.
Check out our current giveaways. Subscribe to our feed. Follow us @5M4B on Twitter or on Facebook.