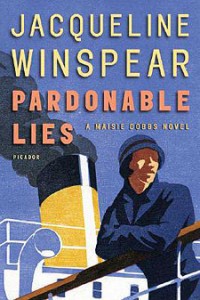 Although Pardonable Lies
is the third book in the Masie Dobbs mystery series, by Jacqueline Winspear, it was my first encounter with this character. After reading this other mystery several people recommended Maisie Dobbs to me and then an offer came in for me to read and review a book from Ms. Winspear's series. What fortuitous timing! I couldn't say yes fast enough and I dived into this book the moment it arrived.
If you are unfamiliar with Maisie, as I was, she is a psychologist and investigator who owns and operates her own detective agency in England, post World War I. As I picked up on book three in the series, I gather the first few titles tracked with Maisie as she served as a nurse in France during the War and then explain how she came to run her own agency. Despite not knowing the details of these things, I didn't find it hard to launch into this particular tale.
In this particular story she has been hired by Sir Cecil Lawton to prove that his son, Ralph, died in the war. Lawton's wife never believed in her son's reported death and on her own deathbed she extracted a promise from her husband that he would seek information regarding their son. Obviously, this being a mystery, I will refrain from giving details or spoilers but I will say Winspear does a good job at weaving a story and unfolding it in a manner which makes for very enjoyable reading. Be that as it may, I didn't particularly enjoy this book as wholly as I hoped to. Truthfully, I set this book down twice in the course of my reading, determined not to finish it.
There were two aspects of the story that I didn't really care for but in the end wasn't really bothered by. First, there is quite a bit of talk and focus on spiritualists and mediums who contact the dead. Maisie visits some seers to conduct interviews and there is one, in particular, who I didn't much care for. As a Christian, I do not believe that we are to be contacting the dead for any reason whatsoever and I would exert a great deal of caution (i.e., I would outright avoid) seeking out a seer or mystic to help unravel any of life's mysterious or conundrums. For my part, I believe that God is my refuge, my help and my strength and He will grant me wisdom to handle whatever I find in my life's path. There is a point in the story where Maisie feels that she is being helped in her investigation by the spirits of two people departed and it got a little too creepy for me so I set the book down and thought about not finishing it. I decided to give the book another go being that it is a mystery and the genre, by nature, typically introduces "creepy things" and then resolves them as the tale continues. That was the case in this book so I'm glad I continued on despite my earlier misgivings on that front.
The second issue I had with this book plays a heavy part in the mystery and I must avoid a spoiler! Suffice it to say, if you are a conservative viewer of Downton Abbey who enjoys the show and who has resolved any such issues that the show has raised in your mind, then you can handle this book and enjoy it for what it is. However, in moving on, I don't know that I would necessarily say that I would read another Maisie Dobbs book. I was able to sit back and (mostly) enjoy this for a diverting mystery but I can tell that Jacqueline Winspear and I have different(-to-opposing) worldviews and instead of quibbling over differences I'd much rather enjoy this as I can and then move on to something that I know I will enjoy more, if that makes sense. All that to say, I didn't dislike Maisie but I just didn't click in tremendous fashion. She is her own brand of character, that much is certain, and I'm glad I met her. We just aren't meant to be best buds but I think that's ok!
We have a copy of the latest Maisie Dobbs novel that comes out later this month to give to one of you (U.S. or Canada). Leave a comment to enter to win Leaving Everything Most Loved. The giveaway is closed.
I do very much appreciate the opportunity I had to read this book and thank TLC Book Tours for sending a copy my direction in exchange for my honest opinion! This review is part of a book tour hosted by TLC Book Tours.
Check out our current giveaways. Subscribe to our feed. Follow us @5M4B on Twitter or on Facebook.

Carrie blogs her honest thoughts about all of the books she reads over at Reading to Know.com.