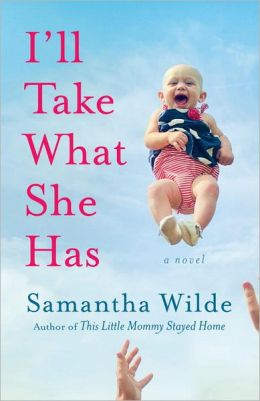 The grass is always greener on the other side, so the saying goes. For the boarding school staff characters in Samantha Wilde's new novel, I'll Take What She Has, this is sometimes more than just a passing thought, especially as they see others getting just what they've always wanted, whether it's the husband, the pregnancy, or the one big house on campus.
Nora, newly married and successful in her teaching career, longs for nothing more than a baby, yet month after month, she finds herself disappointed again. Though she knows she is deeply loved by her family, wacky as they are, the fact that she is adopted makes her crave just one actual blood relative in her life. When Nora looks at her best friend Annie's life as a mother to two young children, she sees nothing but bliss.
Annie adores her role as mom, but she can't help but wonder if she's doing everything all wrong whenever her spirited child gets the best of her. When she seeks out some therapy in an attempt to become what she imagines is a better mother, she finds herself surprised with the direction in which the therapy goes. Is her therapist completely off-base to suggest that she is ambivalent about her choice to be a stay-at-home mom? And then comes Cynthia, the new teacher on campus married to another faculty member, who just happens to be Nora's old boyfriend. Cynthia is the absolute picture of perfection, and she quickly becomes adored by Nora and reviled by Annie, as each woman struggles to find peace with where she is in life.
New motherhood is a topic that Wilde seems comfortable exploring through her fiction. Her first novel, This Little Mommy Stayed Home, approached the idea of how much one's life changes after baby makes three incorporating a whole lot of humor (linked to my 2009 review). This book wasn't as laugh-out-loud funny as her first novel, but the characters and their plights through marriage and early parenthood were wholly relatable. The scenes showing an up-close look at what it's like to spend great periods of time with infants and toddlers certainly rang true for me! I have to admit that I loved hating the annoying side character who served as the source of trouble for so much of the plot. The boarding school setting offered a world of characters all always nearby if not immediately present.
Wilde clearly has given a lot of thought to the whole stay-at-home vs. work-outside-the-home roles moms can take, and I like how she even has her characters show conflicting thoughts on what works best for individuals. I'll Take What She Has entertains and perhaps even helps provide some perspective– that grass might not always be as green as we imagine!
In Dawn's almost-thirteen years of parenting, she's been almost everything– working mom, stay-at-home-mom, part-time worker, work-from-home, you name it. The only thing she's learned is that all the grass has tinges of brown here and there. She blogs when she can find a spare moment here and there at my thoughts exactly.