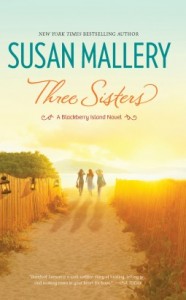 I love books that include a double entendre in the title. I suspected that the three sisters referred to in… Three Sisters by Susan Mallery wasn't simply the three Victorian houses in the cul de sac on Blackberry Island, off Seattle, wouldn't simply be the houses but also the owners of the houses. As I started to read the book, I had my doubts, however. The owners had issues and their personalities clashed.
Pediatrician Andi Gordon has just purchased the house in the middle of the Three Sisters after being ditched at the altar by her fiance and boyfriend of ten years. She's left her life in Seattle and moved to Blackberry Island about two hours away, not knowing a soul but determined to start over away from her family of overachievers who view her calling as "just" a physician as a disappointment compared to the Nobel nominee sister and famous specialty surgeon parents. The house she's purchased is in as much disrepair as her life, and she's hopeful that returning it to its glory will help put a shine back to her life, too.
On the two other sides of her house are two other families whose personalities reflect that of their houses. Boston King is an artist who is stuck in grieving with a husband who doesn't understand her inability to cry over the death of their infant son six months earlier. Boston is able to draw only portraits of her dead child in all sorts of poses and media. It's somewhat disturbing to read about her obsession with recreating him, although I understand her grief. Her husband Zeke copes by drinking, but neither of them talk about their issues – and it's driving a wedge between them.
Deanna Phillips is the perfect mom who lives on the left side, and her house is of course restored to perfection with period pieces inside, as well. She has five daughters, the oldest of whom can't stand her and all of whom prefer their father to her. Deanna looks perfect, acts perfect, and has the perfect home. But she is intensely unhappy. She projects the perfect image but is incredibly broken on the inside, and her rigidity keeps her from becoming close to anyone – from her neighbors to her children. She dislikes Andi as soon as she hears that she's a pediatrician, assuming that Andi will immediately judge her and find her wanting for being not having a career.
When Deanna finds a photo on her husband's phone, she accuses him of having an affair and is ready with names of divorce attorneys to convince him to come crawling back at her – because that's how it should be. Instead, there was no affair, and her husband explains that he's not happy with her or their marriage and how much she rides their children and makes everyone feel uncomfortable in their own home. Not surprisingly, Deanna has never seen her this way, and it's interesting to watch a character I didn't really like get her comeuppance. It's a scenario I don't typically see in books. With her marriage on the rocks, Deanna tries to find ways to change but doesn't see the need to change, for the most part because she's doing what she's "supposed to be" doing.
The relationship between Boston and her husband Zeke is falling apart, as well, with Zeke walking out after discovering the hundreds of portraits of their son Liam that she has created and Boston unable to explain why she can't stop making them. Boston forges a friendship with Andi, which helps her start to heal just a little bit – not the least of which is Andi's request that Boston create a mural for her new pediatrician's office, unaware of the tragedy that had befallen Boston.
The women start to truly become three sisters when Deanna heads to Boston's house to confront Andi – over a misunderstanding – and starts to cry. The share wine and open up about themselves, finding commonalities they hadn't expected. While their personalities are not a perfect match, they develop a friendship that allows them to grow together and appreciate their differences, just like any good sisters do.
This is a Harlequin novel, so of course there's a romance involved, technically with all three women. I honestly would never have put this into the "romance" category in the book store because it is simply a part of the book, as love is just a part of our lives. Three Sisters is so much more than a romance novel and focuses on their lives outside their . It is technically the second of the Blackberry Island novels, but it is not all all interconnected with the first book, so it is a perfect novel to pick up and read.
In the interest of full disclosure, I received a copy of Three Sisters for review purposes. I was not otherwise compensated, and all opinions remain my own.
Written by 5 Minutes for Books contributor Michelle who wishes she lived somewhere as unique and close knit as Blackberry Island, though she is grateful that her house doesn't need nearly the updating required by Andi Gordon's new home. See what she's spending her time – and money – on instead on her blog Honest & Truly! and follow along with her on Twitter where she is also @HonestAndTruly.