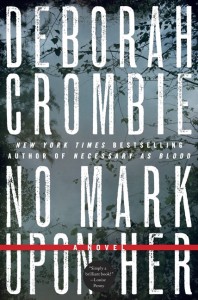 I read a lot. And when I read a lot, I run out of favorite authors quickly. Good news? I'm in no danger right now. I just finished No Mark Upon Her by Deborah Crombie, and I'm hooked. No Mark Upon Her is the fourteenth novel in the Kincaid/James series, and the fifteenth was just released in hardcover.
The novels follow the careers and lives of detectives for the Metropolitan Police Duncan Kincaid and Gemma James as they solve cases. Jumping into the fourteenth book, it took me a bit to realize that this was a series because it is so subtly woven in. I didn't feel like I was missing anything, yet I didn't feel like plots from prior books were being rehashed to no end (anyone else remember skipping the first 13 pages of Sweet Valley High books because they contained the same information every single time?).
In No Mark Upon Her, Becca Meredith is an elite level rower who has just decided to commit herself to training full time in one last effort to make the British Olympic team when she is murdered. Also a detective at the Metropolitan Police, although not known by Kincaid or James, Becca is a standoffish woman who has few close friends. As Kincaid investigates her murder while James finishes her childcare leave, it quickly becomes clear that this isn't so easy as an open/shut case where the ex-husband murdered her for financial gain. There is much more at stake, and there is a much larger conspiracy at stake.
There are a plethora of characters in the novel from the colleagues of both Kincaid and James to the members of the search and rescue team who found Becca's body to the rowers both past and present and more. Each one is carefully drawn, however, which allows the reader to easily remember who is who with no confusion. There are any number of suspects outside the ex-husband Freddie Atterton. Was it her former rowing coach? The man on the search and rescue team who knew her? A revenge from a previous case? Someone within the Met who didn't like Becca?
The murder is, of course, solved by the end of the book, with all the fanfare and drama that you would expect in a detective mystery like this. There was plenty of misdirection, although identifying the murderer was possible partway through the book. Uncovering the additional motivations of why Becca was murdered and the steps that led to it kept the pages turning, regardless of whether I thought I knew who the murderer was or not. It was fun to read, and I've already checked out another of Deborah Crombie's books from the library.
The book focuses on more than just the murder case, however. James and Kincaid have a life outside their work, and this is also brought into the novel from struggling with work/life balance to navigating the waters of a blended family that includes a mixed-race foster child who isn't well accepted by the extended family and more. Bringing in these bits of humanity creates a much richer novel, and it's part of what compels me to seek out the remainder of Deborah Crombie's books and read them, as well.
Interested? You can get a sneak peak at the first chapter in No Mark Upon Her from Deborah Crombie's website.
In the interest of full disclosure, I received a copy of this book for review purposes. I was not otherwise compensated, and all opinions remain my own.
Written by Michelle who may be starting to figure out this work life balance thing and is grateful her life isn't so exciting as those of the detectives in this novel. See what is keeping her busy on her blog Honest & Truly! or follow along with her on Twitter where she is also @HonestAndTruly.