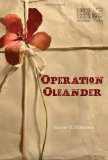 Jess' father has been deployed to Afghanistan, but she's come up with a way to stay involved–she and two of her friends on base have formed Operation Oleander, which raises funds for a girls' orphanage in Kabul. She and her best friend Meriwether are spending their summer camped out in the hall outside the PX, selling snacks and collecting school supplies. Her father sends her pictures of a girl with wide green eyes and the beginnings of a smile, named Warda. "What a difference you all are making. The school supplies are a big hit. Keep them coming," her dad writes to Jess in an email.
And Jess wants to! She's really excited about making a difference. Adopted as a young girl, she feels an affinity for orphans. They've already bought a milk goat for the orphanage, and sent boxes of coloured pencils and markers and glue sticks. She persuades Meriwether and Sam, the commander's son, to come early to the PX every day throughout the summer.
When Meriwether's father shows up unexpectedly and whisks her away, reporting news of a bombing, Jess heads home and turns on the news to coverage of an enormous blast right outside the orphanage. Remains of a smouldering Humvee can be seen. Eventually the news comes, delivered in person: Jess' father gravely injured, in a coma and flown to Germany; Meriwether's mother and another solider killed. Adding a terrible twist to the news is the fact that some Afghanis are blaming the soldiers for the explosion, which has been attributed to the Taliban. If the soldiers hadn't been there, would the orphanage have been a target? Were the soldiers somehow complicit?
Jess plunges into a maelstrom of negative reactions and emotions. Her mother flies to Germany to be with her father, leaving Jess and her little sister in charge of a neighbor, a woman Jess isn't particularly fond of. Meriwether responds to the loss of her mother by blaming Jess–since the explosion happened when her mother was delivering supplies that Meriwether and Jess had collected, at Jess' instigation–and she refuses to even see Jess. Jess clings to her father's words and instructions, but she's floundering, caught in a media firestorm, trying to reach out to Meriwether, worried about her father.
Operation Oleander
deals with a lot of interesting topics in a very effective way. It raises questions of how to best do good in developing countries–Jess and her friends have already learned that sending money directly isn't the best way, and now Jess must face the fact that the soldier's personal involvement may well have been the direct cause of the bombing. The book deals with military families and the impact of war, deployment, injury and death of parents. In many ways, it's a pain-filled book. Jess' confusion and despair are not easy to read, as you identify with her and her desire to simply do something good. I will tell you it ends on a note of hope. However, it is in many ways an important book, one that I think would benefit a wide variety of readers.
Although Operation Oleander
is a YA book, it's appropriate for most ages–from about 10 and up, I would say. The topics are bleak–permanent injury, death, war–but these are topics that exist in the daily life of our world, and I think most kids can handle them. It's also the sort of YA book that can be enjoyed by adults as well. I will definitely be sharing my copy with my kids and with other friends.