I loved reading each of the Cybils Middle Grade Fiction finalists, but I had a hard time staying mum, because I wanted to be able to share about these books I was enjoying. BUT– as a round 2 judge, any thoughts I had were embargoed until after the winner was announced. So here's post one of two giving my thoughts on the finalists.
Almost Home by Joan Bauer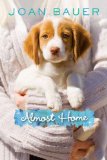 I was first introduced to Joan Bauer when I read Close to Famous for the Cybils a couple years ago. I liked that one, so I looked forward to this one. Almost Home had the same touching sweetness that I can now expect from her. She apparently has the ability to deal with mature topics in a kid-friendly way.
Sugar Mae is a great kid. She likes to write poetry and has an incredible teacher who encourages her. But when she and her mom get evicted, things change. Issues that Sugar Mae has to deal with include a deadbeat dad, a mentally ill (severely depressed) mother, foster care, and homelessness. So, it's a little heavy, but bookish kids who like strong characters will like it. It's the kind of book that I'd have loved as a 4th or 5th grader.
The Adventures of Beanboy by Lisa Harkrader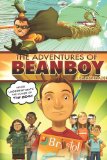 This is a good school story, featuring the stereotypical mean girls and a popular girl who's not mean, an outcast, and a reluctant hero. Like much of middle grade fiction that gives us a little "something more" in the way of depth, this definitely presents some heavy issues like divorce and struggles with money, but it's handled in an age-appropriate way.
Tucker is a regular kid trying to deal with his mom's crazy work schedule as he helps take care of his brother with special needs. When he hears about a comic book contest that could score a full college scholarship, he digs in completely, and "Beanboy" is born. He was likable, but normal — not pristine. Though my 3rd grader Kyle read it, and enjoyed it well enough, it will resonate more with kids a bit older, I think (though I'm glad that he's been exposed to some of these deeper plots and admirable characters).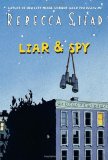 This is Rebecca Stead's first novel since winning the Newbery for When You Reach Me (linked to my review). I looked forward to reading it, and it didn't disappoint. I remember being hooked by her descriptive writing in the very first chapter. Kyle also gave it his seal of approval.
I liked the characters a lot, as well as the plot of an amateur spy operation. But what made it really stand out was the growth of the characters and the surprise twist at the end. And of course, there were some "issues," with money troubles, moving, and a mother's absence.
Chomp by Carl Hiaasen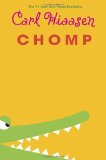 My 3rd grader Kyle is reading this right now, and he loves it. I had been wanting to read a Hiaasen novel, so I was looking forward to it myself.
Wahoo's dad (yes, Wahoo, named after a wrestler) is an animal wrangler. Their backyard is like a miniature zoo with crocodiles, snakes, and monkeys. Because his dad has had some health issues, Wahoo is taking more responsibility to help out, so when his dad is offered an on-location job on the scripted "reality" show Expedition Survival!, he and Wahoo pack up some snakes and the alligator and head to the Everglades.
There are many misadventures, especially with the overly egotistical star Derek, and of course the unpredictability of wild animals, which will appeal to kids, but there's also some heart. Wahoo is dealing with being separated from his mother, who is working overseas temporarily to help their money problems. His friend Tuna (who ends up coming to the Everglades with them) is dealing with a drunken abusive dad. It sounds heavy, but I love middle grade fiction for this reason. Adult problems that kids unfortunately have to deal with can be presented in ways that they can understand. And whether or not they deal with the same problems, I think it helps develop empathy in them.
I gave my thoughts on the fantastic winner Wonder in our winners' post, and I'm writing a separate post about two other finalists who are more appropriate for older middle-grade readers.