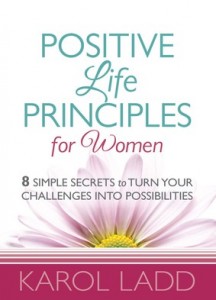 I wasn't really sure what to think about Positive Life Principles for Women
: 8 Simple Secrets to Turn Your Challenges into Possibilities when it arrived on my doorstep. A new release from Harvest House Publishers, it is written by Karol Ladd who is labeled "The Positive Lady." I don't have anything against positive people, but I tend to be more toned down in my approach to life. Perky people look extra perky when standing next to me. I can be perfectly happy, mind you, smiling on the inside and all that, and I still wouldn't be labeled "positive." (I'm the sort who thinks I'm smiling but as it turns out, I'm not. Really. Sorta.) I never know what to think when perky people come bounding up in all their positive glory. I confess to being unsure of their attitude. But, I figured I'd give Ladd the benefit of the doubt and see what enthusiastic message she had to impart.
The book is presented in glossy hardback form and it has the appearance of a gift book, more than a deep theological treatise. In fact, it is not a deep theological treatise but it is a solid little devotional book. Ladd is perky and peppy and her writing is indeed enthusiastic but if you can get around her little "Believe Big!" catch phrases you can actually find some meat to separate from the bones. (I know I probably shouldn't sound so surprised. But she's really, really perky.)
The book is divided up into eight remarkably quick-and-easy-to-read chapters, which each focus on a particular area of concern for the Christian woman. Ladd's desire is to help her reader learn to indentify truth and untruth (and encourages the reading of scripture to discern such things). She discusses how we, as women, can combat fear with a right knowledge and understanding of God's sovereignty and assurance that we are His. She also encourages women to look outside of themselves and their own concerns and look to the needs of others in her community. She spends some quality time teaching about the need to cultivate a heart of thankfulness.
On the whole I think Positive Life Principles for Women
is full of truth and good encouragement for women who believe in God. It isn't remarkably deep, but it's not fluffy either. I was delightfully pleased with it. She encourages women to be wise and discerning and pursue their relationship with Christ in a manner that I found appealing in the end, perkiness and all. Ladd clearly has a heart to encourage and inspire women to become deeper, stronger, more grounded-in-the-Gospel women and I can find nothing to complain of in that! It might not be my first pick for a devotional, but it is definitely not my last either. I might say it's a great choice for someone who is relatively new to the faith and wants to learn more about what it means to be a Christian and more about God's wonderful plan for their lives.
Thanks to Harvest House Publishers for providing a copy of this book to me in exchange for my honest opinion.
Carrie blogs her honest opinion about all of the books she reads over at ReadingtoKnow.com.