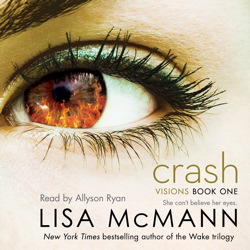 Jules lives with her family above their restaurant, which means she smells like pizza most of the time and drives their double-meatball-shaped food truck to school. It's not a recipe for popularity, but she can handle that.
What she can't handle is the recurring vision that haunts her. Over and over, Jules sees a careening truck hit a building and explode…and nine body bags in the snow.
The vision is everywhere – on billboards, television screens, windows – and she's the only one who sees it. And the more she sees it, the more she sees. The vision is giving her clues, and soon Jules knows what she has to do. Because now she can see the face in one of the body bags, and it's someone she knows. Someone she has been in love with for as long as she can remember.
Crash is marked as book 1 in the "Visions" series. The ending lets you know what the subject of the next story will be, but the story is completely finished which is a great combination, causing the reader to anticipate the next book, but also feeling completely satisfied with a complete story arc.
CONTENT NOTE: There is quite a bit of profanity in this novel, which is par for the course for many YA novels, and definitely the norm in any high school cafeteria (or middle school for that matter). But aside from that, there is not really any objectionable sexual content or other "mature" themes.
AUDIOBOOK NOTES: The reader Allyson Ryan really grew on me. At first I wasn't drawn in to the more narrative parts of her reading, but she truly became the characters, adding wonderful nuance especially to the first-person POV of Jules.