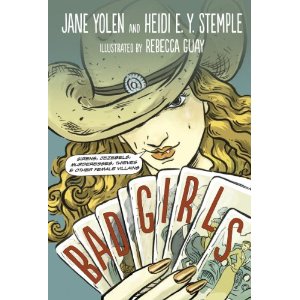 Some books lay it all out in the title, and this would be one of those. In Bad Girls: Sirens, Jezebels, Murderesses, Thieves & Other Female Villains, Jane Yolen and Heidi E.Y. Stemple share the stories of twenty-six "bad girls" throughout history. Beyond presenting just the stories that are known about each of these figures, Yolen and Stemple enter the book themselves in graphic novel style, with illustrations by Rebecca Guay. The mother-daughter team appears in one-page comic strip spreads at the end of each chapter, debating the commonly known stories.
The combined format of short chapters and graphic novel style illustration panels inform older kid readers about these different historical figures in an engaging manner. Starting all the way back in 110 BCE, the authors present the story of Delilah, "a mere snip of a girl," telling of her attempts at learning the source of Samson's strength in exchange for pay from Philistine chiefs. Each subsequent chapter features a more recent "bad girl," going from Jezebel in the 9th century BCE all the way to Virginia Hill, girlfriend of gangster Bugsy Siegel in the 1940s. No book of this title would be complete without pieces on well-known figures like Cleopatra, Anne Boleyn, Lizzie Borden, and Bonnie Parker, and middle grade readers may be newly informed about others like Anne Bonney and Mary Read, female pirates in the late 1600s, or Ma Barker, a notorious mom who enabled her sons' criminals acts in the 1930s.
After the facts (or legends) are presented, authors Jane Yolen and Heidi E.Y. Stemple engage in a little back-and-forth in comic strip format over the historical figures' innocence or guilt. Readers just might come away questioning more about some individuals– and as Yolen emphasizes, context is always key. These women have been judged harshly throughout time, but perhaps some of them deserve some compassion? That's up to the reader, who might be so entertained by the presentation here that he/she forgets it's an educational read!
Bad Girls: Sirens, Jezebels, Murderesses, Thieves & Other Female Villains is recommended for readers 10 and up, and my hope would be that this wouldn't be pigeon-holed as a "girl book" just because of the title and focus on female characters. As the mom of a twelve year old boy, I'm certain that he'll enjoy the content of these stories once I place it on his bookshelf!
Dawn was never a fan of history class, but when history can come alive through stories, she's much more able to take it all in. When she gets a spare minute, she tries to periodically update her blog, my thoughts exactly.