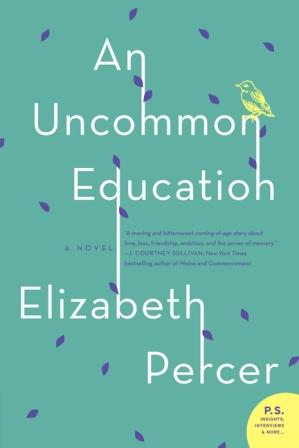 An Uncommon Education by Elizabeth Percer is the kind of story I like. It's a completely narrative, character-driven coming of age story following Naomi Feinstein from around age 9 to her college years, with the bulk of the story taking place over her years in college. If you like this kind of novel as well, I can recommend this one.
Naomi is the only child of a doting father with high expectations and a reclusive, distant mother. When her father has a heart attack in front of her, she gets scared of losing both of her parents, which draws her out of her shell, leading to a close personal friendship with Teddy, the boy next door. They form an immediate bond, which changes a bit as they enter adolescence, leading them to believe they are always meant to be together. When they are 13, Teddy's father dies, so he and his mother pick up leave, leaving Naomi adrift — now left with no one but her father and mother.
This plotline confused me a bit, with the amount of weight put on it, since it seemingly disappears after a few impersonal letters are exchanged. However, like all of us, it's one of the hallmarks that Naomi uses to define herself — one of the relationships that helped make her who she was, that saved her in effect.
She enrolls at Wellesley College, as she and her father always planned, as a pre-med major, having decided to become a cardiologist since her father's heart attack all those years before. It's a lonely place, and Naomi continues a life of isolation until she helps save a girl who has fallen through the ice, leading to a group of friends who begin to change her course.
Lonely. Isolated. Distant. Those are words that stood out to me as I looked back over this review. That sounds pretty bleak, but I wouldn't call this a depressing story. It's a quiet story, about a life, an inner life, but one also influenced by those around her.
Find out more about the book at Elizabeth Percer's website. You can also follow her on Facebook.