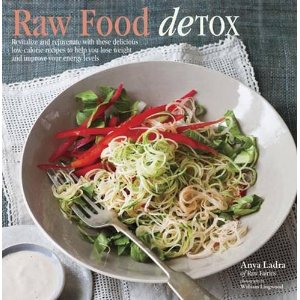 With the new year, there are all sorts of resolutions, so many of which center around eating better. I'm in that camp, not surprisingly. I know what I need to do. My biggest issue is that I need to eat more fruits and veggies and find ways that are fun to make them. The Raw Food Detox, by Anya Ladra of Raw Fairies in the UK, is a great start to this.
Raw Food Detox is a cook book, but it's more than that. I'm fascinated by the concept of raw foods because the less processed the better in my world. But I'm new to it. And it's intimidating. Anya Ladra has put together a great introductory textbook that shows you how to go through a detox if you so choose – with three variations – that includes what to eat and when. Given that much of it requires eating every two or so hours, that part isn't for me. But I'll take what I can.
Click over to 5 Minutes for Mom to read my full review and enter to win a copy of your own!
In the interest of disclosure, Michelle received a copy of the book for review. All opinions remain her own.
Written by 5 Minutes for Books contributor Michelle who loves spending time in the kitchen and is always striving to find a healthier way for herself and her two children. Her husband is on his own. See what she's been cooking up on her blog Honest & Truly! or follow along on Twitter where she is also @HonestAndTruly.