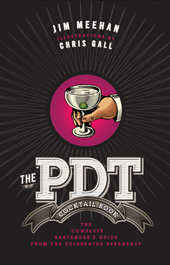 I love to entertain, and one of my favorite parts is coming up with a signature cocktail for each event. Sometimes it's easy to be inspired or to come up with my own idea for a drink, but sometimes I need more help – and instructions. Yes, I can search the internet for ideas, but trust me that isn't always as successful as I'd like. Fortunately, I have a new companion, The PDT Cocktail Book: The Complete Bartender's Guide from the Celebrated Speakeasy by Jim Meehan.
I may never need another resource again. The PDT Cocktail Book is full of more information than I've ever seen in any cocktail guide, and I love it. If I wanted, I could open my own bar after reading this book – almost. It starts out sharing everything you need to know or remember from detailing how to lay out a bar's design to the equipment needed to how much of what ingredient to have on hand and more. It's fascinating to see all that goes into running a bar, and I know I'll be looking around more the next time I'm in a bar.
The second section of the book details the recipes that PDT has used on the menu since opening. I love that each recipe includes the original creator where possible, along with information about the inspiration for the drink in addition to how to make it. The only thing I'd like to see there that isn't provided is the menu description that PDT used for each drink to help me better decide which one I want to make (first).
Because PDT is a bar in New York – one I will be visiting the next time I'm there – that is attached to a hot dog joint (seriously), the book also includes recipes for many of the hot dogs that grace their menus. They are definitely creative and fun, although I don't know that I'll be frying mayonnaise anytime soon. This ties in perfectly with the history of PDT that is shared throughout the book, making it even more fascinating to me to read and not just use as a mixology guide.
The book also provides what I need when I'm looking for something specific. There is a section on seasonal ingredients – what we should be mixing when it's spring, summer, etc. That's a great place to start, and then each season has a couple recipes like Noval Cup for summer or Primavera for spring. It lists alcohol suggestions for each season, and then the index includes drinks made with each alcohol for easy searching on your own. If I realize that I have a ton of sweet vermouth on hand and want to use it in the signature cocktail for my next party, I know there are six recipes in this book I can choose from.
Included throughout the book are all sorts of tidbits of information from what various alcohols are and how they're used and brands Jim Meehan recommends to how to be a home bartender to rules of etiquette used at PDT and more. It's also filled with whimsical illustrations (though not of the drinks) by Chris Gall, making it just as much fun to browse through as to use for a reference book.
The PDT Cocktail Book would make an excellent resource for anyone looking to hone their bar skills, regardless of what they know – or don't know – currently. This is one that I know I'll be keeping around my house. And additionally, this is such a fun gift, too, whether for a wedding or someone turning 40 or even a college student moving out on his own for the first time.
In the interest of full disclosure, I received a copy of this book for review purposes. I was not otherwise compensated, and all opinions remain my own.
Written by Michelle who has a hankering for an apple toddy right now thanks to reading this book, even though that is listed as a fall drink in this book. See what else she's drinking – and making – on her blog Honest & Truly! or follow along with her on Twitter where she is also @HonestAndTruly.