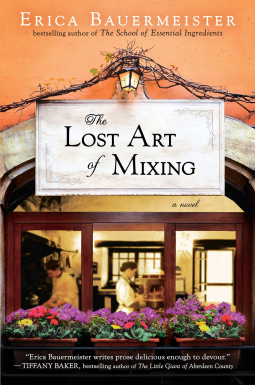 I've read all of Erica Bauermeister's novels and have enjoyed them all. They are all short, quiet, thought-provoking reads. They are of the "character-driven" genre, so if you find yourself losing interest in books because "nothing happens," then her books aren't for you.
However, as a lover of character-driven fiction, I disagree with that assessment — though I know enough about books and readers to know when a book isn't a good fit. To me, a LOT happens in these types of novels: people find out something about themselves or another person, or navigate into a new stage of life, or overcome an obstacle, or succumb to a bad decision.
In The Lost Art of Mixing, we learn more about the characters featured in The School of Essential Ingredients (linked to my review). I'd call it a parallel novel more than a sequel, because I read that first book a while ago and didn't feel in the slightest bit lost. You can read them in any order, but if you liked one, definitely read the other.
This novel felt slightly darker than some of her others, dealing with deep issues such as a loveless disconnected marriage, the difficulties of moving on after the death of a beloved spouse, moving beyond deep childhood hurts, etc. But I wouldn't call it depressing, because the overall message of the novel (and The School of Essential Ingredients) is that people need people.
Lillian, the chef-owner of a restaurant and cooking school/club, is the central character, surrounded by her young sous chef Lillian, a new quiet dishwasher, Finnegan, boring accountant Al who comes to life with the flavors of Lillian's food, and elderly Isabelle, who is trying to put the good and bad of her life into perspective. The relationships between this unlikely group are sweet and ones to be savored (bad food puns completely intended).
I highly recommend this book, if you at all like this sort of story, and am happy to be able to offer a giveaway copy to one of you (U.S. only). Leave a comment on this post if you'd like to win. You can get an extra entry by leaving a comment on Erica Bauermeister's guest post about autographed books (from her perspective as a reader and a writer, and even the way this topic worked its way into this novel).
THIS GIVEAWAY IS CLOSED.
Check out our current giveaways. Subscribe to our feed. Follow us @5M4B on Twitter or on Facebook.