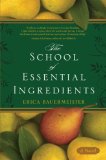 I've read quite a few first novels lately. There is something really magical about them. The School of Essential Ingredients is Erica Bauermeister's first novel, and it's delicious. I do mean delicious — like read it with a snack or a stack of cookbooks close by.
This is the story of a cooking class. Through sections told in each character's voice, the reader learns what brought the person to the class, and how the class is changing them. The characters vary in age by as much as fifty years, some are married, some single, some novice cooks and others gourmet, but as with any really special group, they come together over the weekly classes.
We don't know much about Lillian, the teacher and restaurant owner, except for the fact that her father left her when she was very young, and her mother kept her nose buried in a book. Lillian first learned to cook as a survival mechanism, but later her cooking saved her. She's one of those people who cooks with love. She runs her restaurant as a way to reach into people's lives and uses her cooking class to teach people the value of good food prepared with love.
I gorged myself on this 240 page novel — reading in big chunks, losing myself in the characters and the food. It was literally a full-sensory experience — my brain kept active by the beautifully turned phrases and the process of learning about each of the characters, and my nose and eyes practically experienced the dishes and ingredients that she described.
I recommend The School of Essential Ingredients highly. I thank MotherTalk for helping to spread the word about this great book.
Managing Editor Jennifer Donovan also blogs at Snapshot about life with her tween daughter and preschool son.