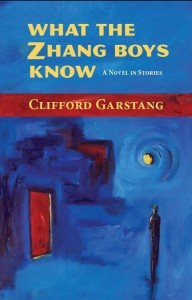 What the Zhang Boys Know: A Novel in Stories
by Clifford Garstang is a book of interconnected short stories which gives us a glimpse into the lives of several neighbors in a Washington DC condominium building.
In the first story, Nanking Mansion, we meet the Zhang family, which consists of the father Feng-qi, his two sons, Simon and Wesley, and Feng-qi's father, who has recently come from China to live with them. Feng-qi's wife has died several months before, although the boys still do not fully believe she is not coming back. As Feng-qi waits for the arrival of his first date since becoming a widower, he is surprised by a sudden visit from his mother-in-law. This is the day, he reflects later, on which he realizes that "no matter how much he planned, no matter how settled he thought he was, his life was an ocean of change over which he had no control."
This sentiment holds true for all of the inhabitants of Nanking Mansion, as we see in the increasingly gritty stories that follow. Although some of them were a bit dark for my taste, I did like how they were connected, not only by the appearance of the Zhang boys somewhere in each one, but also by the way the different tenants lives intersected and overlapped in various ways.
The saddest and yet most hopeful moment for me was when the older Zhang boy, Simon, finally accepts that his mother is gone in the story What the Zhang Boys Know About Life on Planet Earth:
More than ever, he wishes Mama were here, to take him home to Nanking Mansion, to cook dinner for their family, to tell him stories, to bring him pudding in bed and talk to him about all the things he doesn't understand. But she isn't there, and for the first time since the accident he thinks maybe she isn't coming back. Maybe, just maybe, he and Wesley are going to have to find their own way, without their mother, across all the streets and rivers and deserts in the world.
Sad because, of course, no boy should grow up without his mother, but hopeful because we see a glimmer of possibility that he won't end up lost and aimless as many of his neighbors have.
If you are a fan of short stories, you will be pleased to know that Clifford Garstang is also the author of In an Uncharted Country
, another linked story collection. Both of these are from Press 53, which is a publisher of quality short story and poetry collections. You can learn more at the author's website and find other reviews on the TLC Book Tours page.
As part of this blog tour, we have one copy of What the Zhang Boys Know: A Novel in Stories to give away to a lucky reader. To enter, simply leave a comment on this post and the winner will be announced in our November 14 giveaway column. (US/Canada addresses only). This giveaway is now closed.
Don't miss a thing: Check out our current giveaways. Subscribe to our feed. Follow us @5M4B on Twitter or on Facebook.