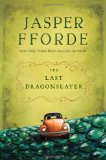 Jasper Fforde is known for his zany plots, postmodern construction, puns and general craziness. In books such as The Eyre Affair
or The Big Over Easy: A Nursery Crime
, he creates a world that is recognizable but very silly. I am having the hardest time introducing him. His style is very hard to describe, but it's full of puns and sort of lateral shifts, if that makes sense. To be frank, he's nearly impossible to pin down.
In The Last Dragonslayer
, he makes the move to Young Adult fiction, and the result is delightful. The book takes place in a world that is similar to and yet completely different from the United Kingdom. It's a place where there used to be tons of magic, but now it's inexplicably drying up. Magic carpets are now used only for pizza delivery, and sorcerers are reduced to fixing plumbing (they can just remove all the plumbing in a house, fix it, and put it back) and hoping to get fairly paid for it.
Jennifer Strange is a 15-year-old foundling who runs an employment agency for magicians. Her life consists of managing people who used to be Somebodies but now can no longer rely on a source of power. Then, suddenly, things start to change. Magic seems to be returning. Everybody is getting prophecies foretelling the death of the last dragon. When a dragon dies, anyone can claim his land, so the borders fill up with hoards of people eager to stake their claims, armed with twine and posts.
When Jennifer is appointed the last dragonslayer herself, things get even stranger. She has to keep her wits about her to keep peace in her world. Fortunately, she's a very witty girl.
The Last Dragonslayer
is full of Fforde's puns and silliness, but relies a bit more on plot than his books for adults. It's a great introduction to his inimitable style, and a good read as well. It's also the first in the Chronicles of Kazam series, so more good fun is promised.
Elizabeth always assumed she'd be the sort of dragonslayer and/or princess (depending on tale) who would either befriend the dragon or outsmart him (again depending on tale.) Learn more of her fantastic self-delusions at her blog Planet Nomad.