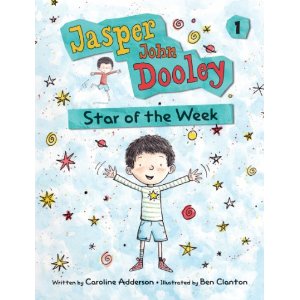 Jasper John Dooley: Star of the Week is a book that I received in a big box of books from Kids Can Press some time ago. Since my son Kyle is now a bona-fide 3rd grade middle reader and no longer reading early chapter books, I didn't give it much attention.
However, when I was reviewing my possible Cybils nominations, I thought about the books I had sitting unread on my shelf, and so I turned to them, with hopes in finding a book worthy of a nomination in the early chapter books category. Jasper John Dooley: Star of the Week is the book got my nomination. I was delighted by this little guy.
This is a traditional school story — one that young children will easily understand and relate to. Jasper John is so excited that his turn to be Star of the Week is here. He thinks about it all weekend and even dreams about it the night before, which wakes him up extra early. He plans his special show and tell — his lint collection — but it falls flat. When it's time to make and present his family tree, he's afraid that it isn't enough. His family is so small, just him and his mom and dad. What if his family got a new baby like his friend Ori just did? Jasper John fudges his tree a little bit, which leads to an interesting presentation on experiment day: his baby brother made of wood.
Jasper John was sweet and lovable and real. He's a quirky individual who I think that young readers will identify with, whether they are new big brothers or sisters or only children. Every kid wants to be appreciated and liked by their teacher and classmates, and Jasper John shows kids that they can do that by being themselves. I'm not sure if kids this young are old enough to pick up on fiction that has an ulterior motive of teaching a lesson, but don't worry, author Caroline Adderson isn't being preachy. She lets Jasper John shine on his own.
It looks like this is book one in a series, and I'm glad to have a young boy who is weird and boyish (three words: belly button lint), and yet not a trouble-making slacker or brat.
Jennifer Donovan looks forward to Cybils time every year. Even the nominations lists provide a great resource of books for herself and her children.