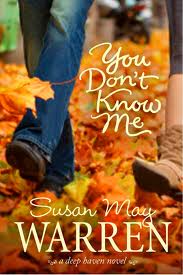 With You Don't Know Me
, Susan May Warren takes us back to the northern Minnesota town of Deep Haven
. This time, we meet Annalise Decker, a picture-perfect wife and mother whose husband Nathan is running for town mayor. Hidden behind the facade is a secret no one in her current life knows, not even Nathan. For Annalise used to be Deirdre O'Reilly, until she testified against a dangerous criminal and was put into the witness protection program to be relocated in Deep Haven. She met and married Nathan shortly after arriving in town, never telling him anything real about her past.
Her dreams of security are shattered when her witness relocation agent, Frank Harrison, shows up and informs her that the man she helped to put behind bars has been released on parole and is looking for her to exact his revenge. In order to save her life, Annalise is faced with a choice between telling her family and hoping they will go into hiding with her or disappearing from their lives with no explanation or goodbyes.
As Annalise struggles with her decision, we see the confusion and pain that years of keeping so many secrets has created, not only within herself, but also in each of her relationships. Her marriage is lacking any real passion, and her fears that her daughter will turn out like she had in her earlier life keep her from making a true connection with her.
Just like The Shadow of Your Smile, another Deep Haven book I reviewed earlier this year, You Don't Know Me
is first and foremost a story about being open and honest with those we love, even if we think we are protecting them from things that might hurt them. Add in a bit of suspense with a hint of romance, and you have a winner. Highly recommended to all fans of Christian fiction!
We have one copy of You Don't Know Me
to give away (US addresses only). To enter, leave a comment below and tell me what name you would want if you were going into a witness protection program. The winner will be announced in our giveaway column on October 17. This giveaway is now closed.
The winners of our most recent giveaways are:
Thank you to Tyndale House for providing a review copy of this book. Visit the Litfuse blog tour page to learn more and see what other reviewers are saying.
Don't miss a thing: Check out our current giveaways. Subscribe to our feed. Follow us @5M4B on Twitter or on Facebook.