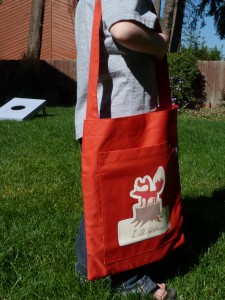 I love fall, it is my favourite season. Yesterday was such a beautiful sunny day and we found out about a charity book sale going on. I thought this would be the perfect opportunity to try out the
Artist Series Book Bag
by Stuck on You.
Stuck on You is a label and so much more company. They offer  many unique personalized items. When I was growing up companies like this were few and far between so while the Jennifers and Lisas in my class got cute pencil cases with their names on them I alas did not. I guess the market for Tennille personalized items is not that big! Now even though both of my boys also have unique names they can enjoy things made just for them.
I am happy with our new book bag and personalizing it was a lot of fun. There are so many images to choose from. I appreciated there were a lot of boy options to select. I often go green with envy when I see a site have double the designs for girls than boys. My oldest loves the colour red and his 'best stuffie buddy' is a fox so it was an easy choice for me when choosing what image to put on our book bag. I decided to have it say 'library' instead of his name so it could be handed down to his younger brother. The bag itself is well constructed with reinforced stitching at the handle for durability. It is spacious enough to hold several books and has a large front pocket for extra items. The lining is a great candy stripe which is nice and bright making it easy to see the contents of the bag. I wish my purse had such a bright interior, it would make finding stuff in it so much easier!! I found the strap a bit on the long side for my son but perfect for me. He'll just have to grow into it and I always end carrying everything anyways. Overall the bag was a hit and we got two compliments right off the bat. My son is very excited for our next library trip so he can show it off.
We also received Artist Series Drink Bottles for the boys to try out. I had these personalized with their names. I know you can't see the names in the photos(for our own privacy reasons) but trust me it looks sharp. My son was so excited to use something with his name on it. He has been showing it to everyone. The bottle is metal with a great cap. The spout pops down to prevent leakage and the cap is easy enough for my son to open and close.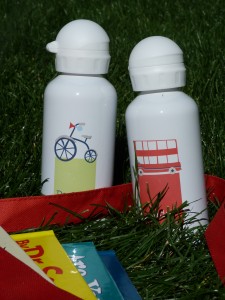 As with anything being made specifically for you there is a bit of a wait for items to arrive. I did not find the delivery time excessive and emails were sent so I knew the order was being processed and when it had shipped. It was well worth the wait and I only tell you so you can allot the proper amount of time.
Stuck on you is offering a personalized Book Bag and Water bottle to one lucky 5 Minutes For Books reader. The links above are the .ca site, but you can look at the Stuck On You Homepage to see the U.S. products and prices. This giveaway is open to US and Canada. The giveaway is closed.
Leave a comment if you'd like to win, telling us what you like. We'll announce the winner on October 3.
Don't miss a thing: Check out our current giveaways. Subscribe to our feed or video reviews on YouTube. Follow us @5M4B on Twitter or on Facebook.