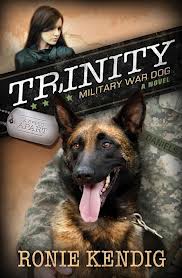 Trinity: Military War Dog
is the first book in an exciting new series from Christian fiction writer Ronie Kendig. I didn't realize until poking around a bit that Ronie is also the author of Whole Pieces
, one of the novellas in the 7 Hours
series, which I read and loved earlier this year. This series tackles the question of what you would do with an extra 7 hours offered just before you died, and each story is available as an individual download or as part of the whole series.
Anyway, back to Trinity, who is the fiercely loyal military war dog partnered with Green Beret Heath Daniels. After Daniels was discharged from the service due to a traumatic brain injury, Trinity refused to work with anyone else and is now back at his side. The retired team has been invited to join a new venture called A Breed Apart, basically a group of contract workers with dogs for hire, and their first gig takes Daniels right back to the place where his career ended a year earlier – Afghanistan.
Daniels has no idea that while he is showing off Trinity and sharing his story for a morale-building tour, he will cross paths with ghosts from his past. Darci Kintz is the spy whose bad intel put him in the wrong place at the wrong time, but when he meets her now, she is simply an intriguing woman he wants to get to know. Soon enough, however, he is drawn in deeper when Darci is captured by a rogue Chinese colonel who has his own history with her.
There are a lot of characters introduced fairly quickly in this book, and I must confess I had to re-read the prologue and first couple of chapters to get them all straight. Once I got into the story, however, I really enjoyed getting to know Daniels and Darci through their reactions to each challenge they faced, including that of deciding whether to give each other a chance. Of course, Trinity is the real hero of the book, exemplifying the loyalty and perseverance we all should have in our lives. If you are a fan of action-packed stories with an inspirational message, then you will want to check out Trinity: Military War Dog
.
We are excited to have copy of this book to offer one of our readers, courtesy of Barbour Books. To enter, simply leave a comment below, and the winner will be announced in our giveaway column on September 19th. (US addresses only) This giveaway is now closed.
Don't miss a thing: Check out our current giveaways. Subscribe to our feed or video reviews on YouTube. Follow us @5M4B on Twitter or on Facebook.