The Dora & Diego Vacation Adventure app has 40 interactive animations and stickers for little ones to explore. Dora, Diego and various friends explore and have fun while on a camping adventure.
My son is currently going through a 'that's for girls' phase so I thought this might be a good choice as it has Diego (who for some reason my son calls Iago). He very easily navigated throughout the story and was able to figure out the different challenges with very little instruction. Having never watched Dora didn't seem to matter as the story captured him and the 'game' elements of placing stickers in their magic spots and tapping characters was entertaining. I had a laugh when I asked him why there was a chicken sticker and he matter of factly stated 'because he needs to go to the beach, Mom". Pretty sure he gave me the duh-look. Overall he enjoyed it and was eager to show me how to move characters, place stickers and tilt the screen to reveal hidden layers. It was good, cute fun.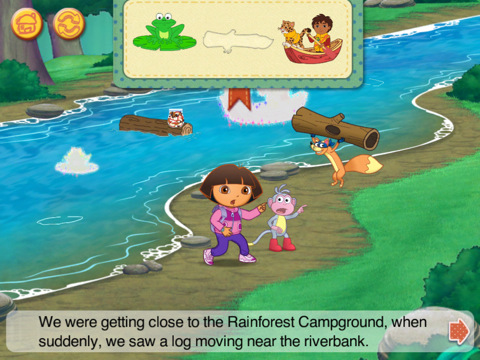 The recommended age is 4+ and I would say that 2-3 is a much better match unless the child is a real Dora fan. As part of a series of Dora apps these could be a great little collection for young ones to enjoy. Always great to keep in your phone or iPod for those times when little ones need to occupied for a short amount of time such as waiting for doctors appointments or long line-ups.
Just follow the instructions below to enter to win. You MUST enter via the rafflecopter. The giveaway will close on September 15. New to Rafflecopter? Watch this 45-second video on how to enter!
Don't miss a thing: Check out our current giveaways. Subscribe to our feed or video reviews on YouTube. Follow us @5M4B on Twitter or on Facebook.
a Rafflecopter giveaway


Remember, we are doing Dora and Diego App Giveaways all week long. Be sure and enter to win all of them.
Tennille lives in the Great White North with her hubby and two sons. She enjoys sleep but is learning to appreciate caffeine as a perfectly viable substitute.