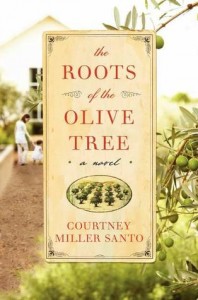 I like my women's fiction with creative use of language, sentimental yet not sappy storylines, and a strong setting. Courtney Miller Santo's The Roots of the Olive Tree gave me all of those.
When the story opens Anna is 112 years old, and she doesn't even feel anywhere close to her age. She lives in the family home in California amongst the olive trees that have been their livelihood ever since her father brought over somw olive trees from Australia. Anna lives with her daughter Bets, and her granddaughter Callie. Callie's granddaughter Erin returns home for her mother's upcoming parole hearing. Deb has been in jail since Erin, who was raised by her grandmothers, was a young child.
The family has their secrets and their skeletons, but they aren't told in an over-the-top sort of way. It's life. We've all been there. I wondered if this would be one of those books that touched me in a way as to leave me sobbing at the end, and when I say it didn't, I don't want to leave the impression that I didn't enjoy it. I enjoyed it quite a bit. I read it in large chunks, the story flowing easily and keeping me intrigued enough to want to keep going. In fact, if I had experienced a surge of emotion at the end, I think that I would have felt as if I had been manipulated. This story was told by strong and stoic women (and read by one as well!), and it stood firm that way.
The setting was so vivid that I found myself craving salty olives or rich fruity oil as I read it.

Jennifer Donovan is thankful that she can take care of and support her 92-year-old grandmother, and equally proud to be raising up another strong young woman as well. She blogs at Snapshot about taking care of these and more.