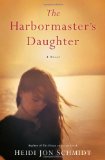 I read a lot of murder mysteries and have since I was introduced to Agatha Christie in my teens. Several years ago, a good friend of mine was murdered. In the aftermath, I wondered dazedly how I could have been so disturbed as to find books on this subject entertaining. But within a few months, I was avidly reading them again–searching for justice, searching for a world in which we all knew beyond a shadow of a doubt what had happened.
The Harbormaster's Daughter
in effect deals with the aftermath of murder. One thing that's always puzzled me about typical murder mysteries is how unaffected those around the victim often are by his or her death. This novel shows that a loss of life can have profound ramifications, touching even far-flung lives.
Oyster Creek is a small community on Cape Cod built around fishing, and old-timers can still remember when the mackerel ran so thick that a toddler could reach in and catch a net full. Now the community is split between those still trying to draw a living from the water and the "washashores," the derisive term for newcomers from the mainland who come as artists and summer guests, attracted by the quality of the light, but whose roots are not across the sea in Portugal.
Vita is a child of both communities. Her father is the assistant harbormaster, who feels he should have been harbormaster, a former fisherman who still clings to his old boat. Her mother was artistic, living in a tiny cottage, confidant of her ability to seduce any man, angry when the seduction failed to turn into love. When Vita is three, her mother is found dead, murdered, traces of the crime cleaned up by the overzealous policewoman, whose reaction to the unknown is to tidy up what she can.
Vita is now 16 and painfully shy. She lives with her mother's friend LaRee, a divorced nurse who was a needy woman before Vita came into her life. Vita resents her father from afar. Because she represents both sides of town, she is accepted into neither–she is bullied at school and has no real friends. LaRee frets over her silently, wishing she could instill confidence, recognizing with the eyes of hindsight some things she should have done better. Vita joins a theater troupe putting on The Tempest and there finds the acceptance she's been longing for, although she is slow to recognize it because of her terrible insecurity. Still, when she's acting another role she feels most alive and most comfortable in her own skin. When more details of her mother's death come out, she feels betrayed by those she has loved most, and she must learn to deal with the ramifications of it. Life is rarely clean-cut and simple, Vita begins to learn, as she learns that grieving her mother looks different at different ages. In some ways this is a coming-of-age novel, but it also deals with prejudice, with how to deal with the community that produced you and shunned you at the same time, and with how to make peace with your past.
The Harbormaster's Daughter
is a gorgeous book, plunging the reader deep under the skin of a self-conscious teenager. If you were one yourself, you might think reading this would be painful, but it's not–you just want to tell Vita that she's actually beautiful and it will get better. And it does. The book is beautifully written. Highly recommended.
Elizabeth responds well to the quality of light on water but is neither artistic nor particularly good at fishing. She has never been to Cape Cod, but she has been quite a few other places. Learn more at her blog Planet Nomad.