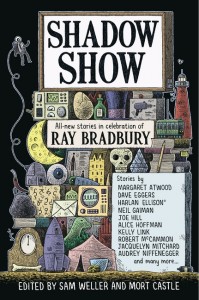 If the titles Fahrenheit 451
, The Illustrated Man
, or The Martian Chronicles
mean anything to you, then you won't want to miss this fascinating collection of stories honoring the life's work of science fiction writer Ray Bradbury. Bradbury, who passed away this June at the age of 91, published some 500 short stories, novels, plays and poems in the course of his career. One of my favorites, besides those already mentioned, is Something Wicked This Way Comes
, the tale of a small town changed forever by the arrival of a mysterious carnival.
This wonderfully diverse collection, entitled Shadow Show: All-New Stories in Celebration of Ray Bradbury
is edited by Sam Weller and Mort Castle. It contains stories from over two dozen writers, including a couple who have been featured previously on this site—Alice Hoffman and Audrey Niffenegger.
Shadow Show
opens with "The Man Who Forgot Ray Bradbury," a delightful story by Neil Gaiman about a Bradbury fan who is losing his memory as he gets older and can remember clearly the stories he loves so much but cannot bring to mind the name of the author. From there, we are treated to tales that range from humorous to creepy to poignant and downright profound. In "The Exchange," for example, Thomas F. Monteleone considers the nature of imagination and inspiration. As his youthful main character Jim Holloway explains it,
It's like, well, there's the stuff of story all around us, and somebody's got to recognize them, and then tell them, right?
And the older character, a writer that Jim has met while looking for a magic shop, shares his own insights with the young dreamer:
"There's only one place you'll find any magic, and that's in here. Phillips tapped a fist lightly to his own concave chest. "And it's a bit of a curse to be placed in charge of it."…
"We are the only sad sorcerers you will ever know. Most of us only know one trick, and the true illusion is that we always believe we are the master of many."
While each story stands on its own merit, the collection taken as a whole is a fitting tribute to a man who contributed such a tremendous amount to our world. I'm sure I don't have to do much arm-twisting to convince the sci-fi fans out there to pick this one up immediately. But even if you have not read science fiction before, Shadow Show
is a great way to dip your toe in the water and see what you think. The variety of themes and quality of the writing means there is something for everyone to enjoy.
Trish thanks William Morrow Publishing for this review copy and for putting together these stories that remind her just a bit of how it felt to be a teenager discovering the world of Ray Bradbury and the universe of science fiction.