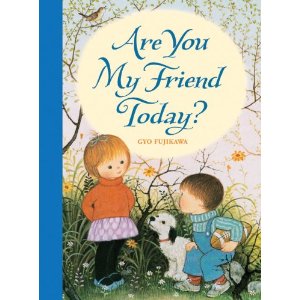 A long time ago, in a galaxy far, far away (well, another book blog anyway) I did a little research and looked up information on author and illustrator Gyo Fujikawa. (Follow the link to learn a few interesting things about her.) Sterling Children's Books have been reprinting Fujikawa's books and they recently re-released Are You My Friend Today?
.
I just love Fujikawa's illustrations. I know I must have had several books of hers when I was young because so many of the pictures are burned into my subconscious. Whenever I flip through her books now, I recognize a drawing here or a drawing there. All of her characters, be they humans or animals, look cuddly and inviting. It was fun to open up to the first full page spread of Are You My Friend Today?
and see so many different colored faces and characters who look similar to my own kids. (We have one adopted son from South Korea so I love finding books which include children of different ethnic backgrounds.) I laughed when I saw a little blonde haired girl with slight ringlets bending over to smell a flower. (My daughter bends over to examine the world around her in much the same way.) There was a boy who looks similar to my oldest who is sitting next to a little Asian-looking boy. I pointed these illustrated children how to my kidlets and they got a big kick out of that as well.
Are You My Friend Today?
is not a story, but rather a series of short verses or illustrations accompanied by short statements. For example, one page spread contains a non-rhyming verse about a Make-Believe Zoo. The verse is surrounded by illustrations of children dressed up as animals. Another page is laid out like a calendar, showing one picture for each month of the year. The idea behind this book is that it would celebrate friendship all throughout the year through play and use of imagination. Sometimes her characters are fighting, but all ends well.
"Let's play again tomorrow.
Remember, we're friends forever and ever!"
Another cute title from Sterling Children's Books! Thanks for making these classic works available again for readers today!
I received a copy of Are You My Friend Today?
from Sterling in exchange for my honest opinion.
Carrie loves blogging about books and the people who create them over at Reading to Know.