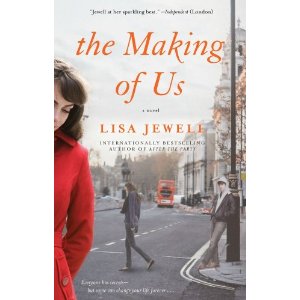 I started this book one weekend, knowing I had an extra day, Labor Day, with not much planned. I was looking for an engrossing novel that I could get lost in, but that wasn't too high-brow or literary. The Making of Us fit the bill perfectly, and in fact I finished it Monday afternoon.
When I first started it, it definitely seemed light, yet still completely "other" due to the English setting and characters (Is it just me? The writing and plot could be trash, but if it's British, that automatically makes it seem more highbrow.). However, I was a little put off by the language and some of the behaviors, until I realized that most of them were presented to show the mess that the characters were in which caused them to make poor choices in effort to mask their pain or fears or insecurities. We gotta set them up to change, right? Plus, when the novel starts off most of them are in their teens or early 20's, and that fact alone caused me to give them a bye, since people that age generally make poor decisions due to their immaturity.
The novel is told by using different characters' point of views in alternating chapters. I didn't love most of them when I first "met" them, but they definitely intrigued me. And the more I got to know them, the more I fell in love with them. It was one of those books that was so good I cried. By the end, I was a blubbering mess. It ended well; not unrealistically tidy — but SO satisfying.
I pretty much always feel this way, but this novel is definitely one that you want to unfold as you read it, not via inadvertently spilled in a summary or review. I think that the publisher's descriptions gives you enough information to clue you in, but nothing that is a spoiler:
Lydia, Dean and Robyn don't know one another. Yet. Each is facing difficult challenges. Lydia is still wearing the scars from her traumatic childhood. Wealthy and successful, she leads a lonely and disjointed existence. Dean is a young, unemployed, single dad whose life is going nowhere. Robyn is eighteen. Gorgeous, popular and intelligent, she entered her first year of college confident of her dream to become a pediatrician. Now she's failing her classes and she's falling in love for the first time.
Lydia, Dean and Robyn live very different lives, but each of them, independently, has always felt that something was missing. What they don't know is that a letter is about to arrive that will turn their lives upside down. It is a letter containing a secret—one that will bind them together and show them what love and family and friendship really mean.
I've heard from several people who enjoy Lisa Jewell's novels. This was my first encounter with her work, but I can heartily recommend it, and would definitely want to see if her other works charm me as much as this one did. Can you recommend any? Leave me a comment if you are a Lisa Jewell fan, and let me know your favorite.

Jennifer Donovan isn't embarrassed to be caught red-faced and teary-eyed when she's reading. She blogs at Snapshot about her family.