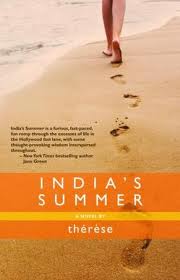 India Butler is a schoolteacher, or at least she has been for the last seventeen years, but she seems to have spent most of that time wishing to be someone else. A French woman with impeccable style and exquisite taste, perhaps, or a classic English country rose. Or maybe what she really longs for is the glamorous lifestyle of her twin sister Annabelle, who left London for L.A., became a famous actress, and married a rock star.
At any rate, the summer just before she turns forty finds her boarding a plane to California to stay with her sister for a few days. Dazzled by the luxury and excitement of the L.A. social scene, India reinvents herself yet again and ends up living the life of her dreams – but how long can it last until the bubble bursts? And will she be able to find who she really is at the end of it all?
India's Summer
, written by the mysteriously named thérèse, is a readable story with just enough depth to keep you turning the pages, but somehow for me it fell a bit flat. Everything is just a bit too perfect, even when it all goes wrong. It sort of reminded me of The Rock Star in Seat 3A, which I reviewed earlier this month, with the same Hollywood view of reality that looks at everything from a perspective that doesn't quite jive with the rest of the population. The difference is that in Rock Star, the fantastical element of the story is made clear throughout the book, allowing the reader to enter the story without constantly looking for the reality check that one would otherwise expect.
I am willing to concede that perhaps I have missed the whole point of the story, and that India's midlife crisis is really an existential awakening that just happens to come with a fabulous book deal and a famous boyfriend. But for me, it just didn't come together.