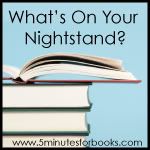 My kids went back to school yesterday. I had hoped to get several reviews written, but as is always the case, I ended up losing the first day. I didn't read any pages either.
However, judging from the bounty of books that has arrived on my doorstep in the mail over the last two weeks — many of them unsolicited, but so compelling — I need to get reading.
I'm sure I won't get to them all this month, but check out my Nightstand post, linked below to see what I have to choose from. I'm just going to read what I want to read, and I think that I'm going to try to refrain from requesting anymore for at least a few weeks.
What about you? Do you have several books to choose from? Or maybe you have a very strict first in-first out policy. We'd love to hear about it. Write up a post and link below, or tell us in the comments.
Would you like to share what your kids are reading? We'd love for you to join us in our monthly Kids' Picks carnival on the 2nd Tuesday of each month. The next one will be September 11. Come back and join us!
Check out our current giveaways. Subscribe to our feed. Follow us @5M4B on Twitter or on Facebook.