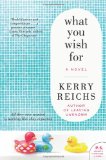 When I was a little girl, I assumed that I'd marry someday, have children whenever I chose. And for me, it pretty much worked out that way. I met my husband in college, we married shortly afterwards, and started our family a few years later.
But for many people, things don't work out quite that way. They don't meet that right person, or illness or death intervene in the family plans. Maybe one of the couple is infertile. What happens then?
What You Wish For
is a novel that looks at people in this situation. There's an actress, just over 40, looking at sperm donors and wondering if she dare wait any longer to find a husband. There's a woman who had breast cancer which has left her infertile. There's a man who longs for a child of his own and is looking into private adoption. The novel is told from several points of view, but I loved the characters and didn't want the book to end.
Read the rest of my review at 5 Minutes for Mom and enter to win a copy of your own.