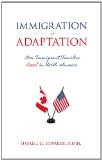 I have a friend, an Iraqi refugee who now lives in Portland, who's pregnant with a little girl. She and her husband are afraid. How can they raise this girl in America without having her turn out like those girls they see on TV–immoral, immodest, sassy, talking back? They are very interested to meet my daughter Ilsa, 15, and see that I expect her to listen and that she is respectful of me, while at the same time being very capable of expressing herself. Another friend tells me of her own experiences in Baghdad. She wanted to be a doctor and gained entrance to a medical school in another city, but her mother wouldn't let her go because they didn't have any family in that town. Would I let Ilsa go to another city to study? Yes, I tell her, and she beams. This is the life she has dreamed of.
Immigrants and refugees face enormous challenges in adjusting to a new place, culture, and lifestyle. I work with Iraqi refugees here in the US and I also lived overseas as an expatriate for nearly 10 years. In other words, I know from personal experience and observation how difficult adaptation to a new culture can be, and how important it is as well. Although Immigration and Adaptation
is different than the sort of book we usually review here, I think many people would benefit from learning a bit more about the topic. Given that we live in a time of unprecedented global movements of people, chances are high that you know at least one family in your neighbourhood, that your child has at least one friend at school, who was born in a different country and grew up in a different place, who goes home to eat things like briyani or fufu or baklava  instead of spaghetti,  pizza or chocolate chip cookies. Or perhaps you yourself are in this situation, perhaps dealing well with some issues and not so well with others.
Haskell G. Edwards is an immigrant himself, and he tells his readers stories of his own experience. This book grew out of a series of workshops and lectures he gives around the country. He's fond of saying, "Immigrants are transplants from motherland to adoptedland. They adapt, blossom, and flourish or else they stunt, wilt, stultify and are deluged–misfits–comfortable neither there nor here. Adaptation is a must."(11, 29, etc)
Edwards' book is geared towards those moving to North America, specifically the US or Canada. He gives practical advice on how to deal with a variety of issues, from how parenting will change, to challenges between children adapting faster (or differently) than their parents, and more. He recognizes that for many families, the woman has gained status and the man has lost it, and he looks honestly at the confusion and pain that can result. Immigration and Adaptation
is a highly readable combination of personal memoir and practical help, advice and guidance.
Chapters include:
The Challenge of Parenting in a New Culture
Building Spousal Relationships in a New Culture
Resolving Family Conflicts without Hostility
Creative Economics for Immigrant Families
Stability and the Drive to Excellence
Edwards has a doctor of ministry degree, and he uses Scripture and biblical principles in areas such as dealing with conflict and the importance of learning to express one's feelings. However, I do feel this book is appropriate for anyone from any background, and I'm looking forward to introducing it to some of my Muslim friends. Not only is it full of practical advice, but there are useful tools in it as well, such as a family wellness test, charts to help recognize communication patterns, tips on making a monthly budget and sticking to it, and more. Edwards recognizes the importance of grief as well; how, in order to move forward, it is necessary to recognize the good and the bad of what we're leaving behind.
Immigration and Adaptation
is a practical book that could be a help to a variety of readers. I know I'll be using it and recommending it to many people.
This post is part of the book tour for Immigration and Adaptation: How Immigrant Families Excel in North America. Visit the official blog tour site to read other reviews, or check out the author's page here.
Elizabeth lived in Europe and Northwest Africa for nearly 10 years, and now she assists Iraqi refugees in adapting to their new homeland, which she loves doing. She's made many new friends, and consistently eats far too much and stays up way too late. Learn more at her blog Planet Nomad.